The Honourable Ed Fast
---
Minister of International Trade
Abbotsford (British Columbia)
The Honourable Ed Fast was first elected to the House of Commons in 2006 and re-elected in 2008 and 2011. He had previously served for two terms as an Abbotsford school trustee and for three terms as a member of Abbotsford City Council.
A graduate of the University of British Columbia, Minister Fast practised corporate and commercial law for 24 years.
On May 18, 2011, Prime Minister Stephen Harper appointed Ed Fast to his Cabinet to serve as minister of international trade and minister for the Asia-Pacific Gateway. Minister Fast assumed responsibility for the Government of Canada's Global Commerce Strategy, which aims to create a more competitive Canadian economy by deepening Canada's trade and investment ties in large, dynamic and fast-growing economies around the world. His top priorities include oversight of free trade negotiations with the European Union—an agreement-in-principle was announced October 18, 2013—as well as those with the Trans-Pacific Partnership, India and Japan.
Prior to his appointment to Cabinet, Minister Fast served on a number of parliamentary committees and chaired the Standing Committee on Justice and Human Rights. In 2011, he was appointed Queen's Counsel for British Columbia and more recently was awarded the Queen's Diamond Jubilee Medal for service to his community and country.
Minister Fast and his wife, Annette, have lived in Abbotsford, British Columbia, for 30 years. They have four daughters.
Photo Releases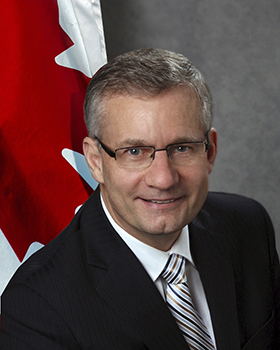 High resolution photo
Date Modified: