Supplemental content
Fast Facts

Combined Population (est.): 260.7 million (Same IMF Apr 2010)
Combined GDP (est.): $1.7 trillion (Same IMF Apr 2010)
Main Canadian Exports (Millions): Cereals ($944.7), Machinery ($703.4), Paper and paperboard ($357.0), Mineral fuels and oils ($309.4) Electrical and electronic equipment ($207.3)
Major Canadian Imports (Millions): Precious stones and metals ($3.6 billion), Mineral fuels and oils ($1.5 billion), Fruits and nuts ($944.8), Mineral ores ($436.7), Copper and copper articles ($385.3)
Seizing Global Advantage
---
Latin America and the Caribbean - Global Commerce Strategy Priority Market
PDF (163 KB) * | Market Reports
---
Lima, Peru
From resource-rich South America to the resorts of the Caribbean and Central America, Latin America and the Caribbean is a vast and diverse market. In recent years, economic and legal reforms have helped create a more predictable environment for commercial engagement. Global direct investment is flowing to the region, a reflection of its growing significance as home and host to multinational corporations. In fact, foreign investment has been a significant driver of rapid development in the telecommunications sector, which in turn is expected to help raise productivity and living standards throughout the hemisphere. Growing trade with Asia is also providing strong incentives for investment in innovation and infrastructure. Commercial opportunities for Canadian business are plentiful and wide ranging. In Central America and the Caribbean, for example, the tourism industry and infrastructure projects are creating opportunities for environmental services. As well, the mineral and energy-rich Andean countries are important to Canadian extractive industries and offer strong growth potential for Canadian suppliers of related information and communication technologies and environmental products and services. The Government of Canada and Canadian companies play a key role in the promotion of Corporate Social Responsibility (CSR) in the region. Most recently the Government of Canada has announced a CSR strategy for the Canadian International Extractive Sector.
Commercial Relations, 2009
Canadian merchandise exports reached $4.4 billion, while imports reached $10.3 billion.
Canadian services exports[1] were $2.8 billion in 2007, a significant portion of which was in the form of commercial services provided to the Caribbean. Services exports increased by 10.3 percent from 2002 to 2007.
Canada is currently a major source of foreign direct investment[2], with some $93.4 billion in holdings at the end of 2009. Extractive industries constitute an important area of Canadian investment in the region.
Market Opportunities
The Government of Canada has identified Latin America and the Caribbean as a GCS priority market—based on extensive consultation with government, academic and Canadian business and industry representatives—and has developed a comprehensive Market Plan that identifies the following sectors as offering clear market opportunities well suited to Canadian capabilities and interests in the region:
Building Products and Construction: Specific opportunities for projects, public-private partnerships, and concessions are present in infrastructure projects and value-added products. Tourism projects, notably in the Caribbean, are coming back on track following the recession. Reconstruction in Haiti following the January 2010 earthquake is another important opportunity.
Electric Power Equipment and Services: Important opportunities come from the generation and transmission sectors through the sale of equipment and engineering services. The countries of Venezuela, Chile and Peru also offer significant growth potential.
Environmental Industries: Argentina, Barbados, Chile, Ecuador, Guatemala, and Trinidad and Tobago rank among the largest markets for Canadian environmental industries. Across the region, commercial opportunities are evident in water treatment, wastewater management (domestic, commercial, industrial, agricultural), solid waste treatment and studies for project sponsors and financiers.
Information and Communication Technology (ICT): While Venezuela's massive oil reserves dominate this market, other countries of note include Cuba, Colombia (large oil and gas reserves), Trinidad and Tobago (world-leading exporter of ammonia, methanol and liquefied natural gas), Ecuador and Guyana.
Oil and Gas Equipment and Services: While Venezuela's massive oil reserves dominate this market, other countries of note include Cuba, Colombia (large oil and gas reserves), Trinidad and Tobago (world-leading exporter of ammonia, methanol and liquefied natural gas), Ecuador and Guyana.
Mining and Minerals: Canadian mining companies have a significant presence in many countries of the region. This provides opportunities for Canadian suppliers of mining-related goods and services.
Canada-Latin America and the Caribbean Commercial Relations, 2005-2009 ($ Millions)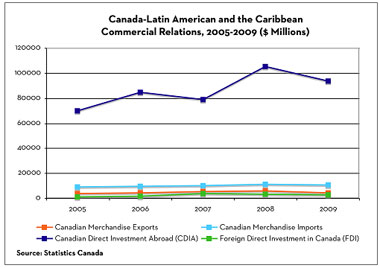 Text alternative for graph of Canada-LAC Commercial Relations
Government Leadership and Support
The Government of Canada's overarching objective for Latin America and the Caribbean is to help build a more prosperous, democratic and secure hemisphere and boost Canada's presence in the region. Canadian commercial engagement is a key mechanism for achieving this. In addition to the NAFTA (1994), Canada has ratified Free Trade Agreements (FTAs) in the Americas with Chile (1997), Costa Rica (2002), and Peru (2009). Canada recently signed FTAs with Colombia and Panama.
Canada remains committed to concluding ongoing Free Trade Agreement negotiations with, the Dominican Republic, the Caribbean Community and Common Market (CARICOM) and the Central America Four (CA4) countries of Guatemala, El Salvador, Nicaragua and honduras. As these efforts continue, Canadian officials are also working to monitor and influence commercial policies and regulations in favour of Canadian interests. The Canadian Trade Commissioner Service (TCS) will continue to facilitate Canadian commercial engagement in the region by actively promoting two-way trade, investment, and science and technology exchanges and by supporting Canadian investors already active in the region.
Market Access
Canada has a number of bilateral trade and investment policy instruments in place that are helping to facilitate and support Canadian commercial engagement in the region:
1976
Canada-Dominican Republic Double Taxation Agreement (DTA)
1978
1980
1985
1993
Canada-Argentina Foreign Investment Promotion and Protection Agreement (FIPA)
Canada-Argentina DTA
1996
Canada-Trinidad and Tobago FIPA
1997
Canada-Barbados FIPA
Canada-Chile Free Trade Agreement (FTA)
Canada-Ecuador FIPA
1998
Canada-Panama FIPA
Central America Memorandum of Understanding on Trade and Investment (Costa Rica, El Salvador, Guatemala, Honduras and Nicaragua)
Southern Cone Common Market (MERCOSUR) Trade and Investment Cooperation Arrangements (Brazil, Argentina, Paraguay and Uruguay)
Canada-Venezuela FIPA
Canada-Chile DTA
1999
Canada-El Salvador FIPA
Andean Community Trade and Investment Cooperation Arrangement (Bolivia, Colombia, Ecuador, Peru and Venezuela)
Canada-Uruguay FIPA
2001
Canada-Ecuador DTA
Canada-Venezuela DTA
2002
2007
2008
Canada-Colombia FTA (signed)
2009
2010
---
[1] Services exports to South America, Central America and the Caribbean, excluding Brazil, Mexico and Bermuda.
[2] FDI to South America, Central America and the Caribbean, excluding Brazil, Mexico and Bermuda.Unless otherwise stated, all data is for 2009 and expressed in Canadian dollars.
All data based on latest available national statistics drawn from a variety of sources, including Statistics Canada, Export Development Canada, Bank of Canada, IMF WEO, and UNCTAD.
For further information, visit the Foreign Affairs and International Trade Canada website or contact the Trade Commissioner Service at 1-888-306-9991.
---
* If you require a plug-in or a third-party software to view this file, please visit the alternative formats section of our help page.