Key Guiding Principles
We have established the Key Guiding Principles for the Office, in alphabetical order: Accessibility, Effectiveness, Independence, Predictability, Responsiveness, Transparency.
The Office recognizes that these principles must not be static. The Office therefore commits to seeing its principles as a work in progress and will seek to improve their functionality over time.
Accessibility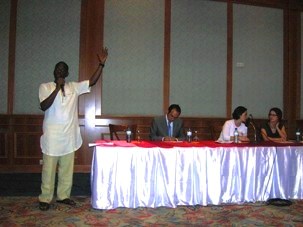 The process must keep "users" squarely in mind, and must aim to be as clear and straight forward as possible to allow accessibility for community members regardless of level of education, social standing, etc. Affected communities should not be expected to have familiarity with global standards, specific corporate policies and procedures, or equivalent technical know-how.
Effectiveness
An effective mechanism fosters the conditions for solutions, builds trust between the users (company, local communities) and creates lasting, fair outcomes. It makes choices about resource allocations. It must also make explicit the distinction between effectiveness (the achievement of the desired outcome) and efficacy (the resources needed to get us to that outcome). Not in every case would the Office's involvement be an efficient use of its resources.
Independence
The issues surrounding extractive industries are often controversial and deeply polarizing. Positions harden and become entrenched. In this environment, the Office must stake out a balanced approach, being open to different perspectives on the problem without taking sides or pushing particular agendas. The Office and its staff must not be perceived as favouring any interest over another, or be influenced by any key stakeholder groups. Its independence and impartiality will build its credibility and legitimacy. The Office staff must avoid relationships that may be or may be seen to be compromising the Office's ability to bring a balanced view to the situation.
Predictability
The process must have clear timelines, predictable stages and milestones, while flexibility is also critical. The process is clearly articulated in the rules of procedure and in the accompanying information brochure. A web registry keeps the public informed of new requests for review and progress on existing requests.
Responsiveness
Under the mandate governed by the Order in Council, the Counsellor is directly accountable to the Minister of International Trade. The Counsellor must however, be responsive to the many other stakeholders with an interest in these issues, and to changing needs, circumstances and the evolution of the external environment.
Transparency
There is a distinction between transparency of process, which is to be encouraged and is deemed critical for the Office, and transparency of information, some of which may well need to be kept confidential in order to have the work proceed in practical terms.
Date Modified: