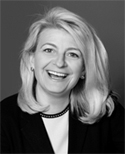 Marketa D. Evans is the Government of Canada's Extractive Sector Corporate Social Responsibility Counsellor. The role of the Counsellor is to communicate the Government of Canada's expectations regarding corporate conduct, assist companies and stakeholders in the resolution of disputes related to the corporate conduct of Canadian extractive companies (mining, oil and gas) abroad, and assist with the implementation of CSR performance standards.
Dr. Evans spent ten years in senior management positions in the Canadian banking sector, and was Executive Director of the Munk Centre for International Studies, University of Toronto. Her research and teaching focused on the role of non-state actors in international development and on global corporate citizenship. She helped establish The Devonshire Initiative, a forum for partnership and dialogue between non-governmental organizations (NGOs) and the mining sector. Most recently, she was the Director, Strategic Partnerships, at Plan International Canada, one of the world's leading development NGOs. She has been a member of external advisory panels for Natural Resources Canada, the World Economic Forum, Transparency International Canada and several private mining companies.
Dr. Evans is a frequent public commentator on issues of corporate social responsibility, cross sector partnership and the role of the private sector in international development. She holds a PhD in political science from the University of Toronto. She has completed Harvard University's Program on Negotiation and the Basics of Geology, Mining and Metallurgy course at Queen's University. She is currently working on the Udall Certificate in Environmental Collaboration at the US Institute for Environmental Conflict Resolution.
Dr. Evans is a member of the World Economic Forum's Agenda Council on Responsible Resource Management and the CSR and Mining Advisory Council of the Royal Ontario Museum.