Bolivia
Table of Contents
Bolivia is the poorest country in South America. One out of eight Bolivians lives on less than US$1.25/day, the most vulnerable being women and children living in rural areas, as well as indigenous people who make up 65 percent of the 10.1 million population. However, Bolivia has a relatively well-performing economy due to strong oil, natural gas, and mineral prices, and this has contributed to a decline in poverty rates in recent years. The 2009 global economic downturn did lower the country's economic growth rate, but due to prudent fiscal management and stability in the financial sector, Bolivia is better positioned than many countries to weather that economic storm. Bolivia has the second largest reserve of natural gas in South America, vital to the economies of neighbouring Brazil, Argentina, and Chile.
Bolivia ranks 108 out of 187 countries on the United Nations Development Programme's 2012 human development index. However, Bolivia's health indicators are among the lowest in the Americas, with one child out of 16 dying before the age of five and one woman out of 89 dying during pregnancy or childbirth ( UNDP ). The poor health of Bolivians is closely tied to inadequate or non-existent infrastructure. More than 22 percent of Bolivians do not have access to safe drinking water, and 73 percent do not have access to improved basic sanitation services. Bolivia's Ministry of Heath is demonstrating leadership in addressing these challenges but technical capacity is still lacking.
Bolivia has maintained a fairly peaceful democracy since 1982, although work remains to be done to improve the professionalism, accountability, and transparency of its democratic processes and institutions and to strengthen the rule of law.
Since January 2006, the Government of Bolivia has introduced economic and social reforms designed to meet the basic needs of the poorest people. Challenges remain. These include: inequality and exclusion, especially of the indigenous population; relatively nascent democratic institutions and internal political tensions; and diversification of its economy.
Thematic Focus
Canada's international development programming in Bolivia is closely aligned with the principles of Bolivia's national development plan ( NDP ), which promotes the Government of Bolivia's goals of constructing a new, equitable, more just, and economically vigorous society by addressing the social, democratic, and economic dimensions of development.
The overall goal of the program is to support a more equitable society in which poverty is reduced and the quality of life of vulnerable and marginalized populations is improved. More specifically, Canada focuses on providing the means for a better future for children and youth and creating the conditions for sustainable economic growth. Canada also continues to maintain support for key democratic and oversight institutions, such as the National Electoral Court and the Auditor General's Office, to help strengthen democratic processes, accountability, and transparency. Environmental challenges are addressed through an emphasis on corporate social responsibility initiatives.
Children and youth
Canada continues to improve maternal health and reduce child mortality by improving access to essential health care, combatting malnutrition, and increasing sustainable access to safe drinking water and basic sanitation services.
Key anticipated results
Reduced malnutrition by increasing vitamin A coverage among children under five
Reduced neonatal, child, and maternal mortality by increasing the percentage of deliveries in health centres
Economic growth
Canada encourages sustainable economic growth by supporting training in market-driven skills for employment programs (technical and vocational training) and promoting effective corporate social responsibility programs for the sustainable well-being of communities through the empowering of women as economic actors by increasing their access to markets, property, credit, and technology and through strengthened sustainable development of the hydrocarbon sector.
Key anticipated results
Increased access to markets, property, credit, and technology for women
Provided Bolivian youth, particularly from indigenous populations, with skills for employment in the local market
Implemented community-level sustainable development projects with extractive companies, regional and local governments, and non-governmental organizations
Progress on Aid Effectiveness
Bolivia adheres to the Paris Declaration on Aid Effectiveness (PDF, 317 KB, 23 pages).
Bolivia actively leads the planning process for development cooperation. Donors have aligned their priorities with the NDP and have focused their program on selected sectors. Donor coordination continues to improve, and Canada chaired Bolivia's Donor Coordination Group in 2010. Joint assistance strategy agreements between donors exist in health and governance.
Achievements
2011-2012

Achievements 2011-2012

Children and youth

Increased by approximately one-third the number of children receiving multiple micronutrient powders containing vitamins and minerals essential to optimal health and development between 2010 and 2011
Provided a third dose of Pentavalent vaccine to 100 percent of children in three targeted regions, protecting them from life-threatening childhood diseases such as measles and whooping cough

Economic growth

Trained 6,527 women to work in non-traditional occupations such as carpentry, plumbing and electrical installation
Provided leadership and management training to 640 women elected to local and national government
Helped 180 family coffee producers access the international market, exporting 16,000 kilograms of coffee to Canada thereby increasing their gross income
Helped smallholder farmers, including women, plant more than 8 million trees and build more than 800,000 hectares of terraces to reduce erosion and desertification
2010-2011

Achievements 2010-2011

Children and youth

Helped reduce deaths due to severe malnutrition in the country by 53 percent in children under the age of five, decreasing from 749 in 2008 to 350 in 2010
Helped increase the number of children receiving micronutrient supplements by 33 percent from 145,000 in 2009 to 192,000 in 2010
Helped increase by 73 percent the number of children receiving zinc for treatment of diarrhea from 166,739 in 2009 to 288,455 in 2010
Increased national capacity to produce key micronutrient supplements such as vitamin A, iron, and zinc required to keep children healthy and well nourished, and contributed to reducing the costs of these supplements and diversifying the economy
In three targeted regions of Bolivia, 550 community health workers were trained and are now providing improved health services contributing to these 2010 results:

a 33 percent improvement in third-dose coverage of pentavalent vaccine from 72 percent in 2005 to 96 percent in 2010
increased percentage of children between six months and two years of age receiving iron supplements — key to preventing mental impairment — to 91 percent compared to 52 percent in 2009
helped 10,205 girls and boys gain access to water and sanitation services in primary schools

Economic growth

Helped increase annual government revenues fourfold between 2005 and 2010 to $2.2 billion through the Hydrocarbon Regulatory Assistance Project — which has funded important social programs such as old age security pensions now received by 775,000 people; the School Retention Bonus, covering some of the education costs of 1.8 million school-aged children; a national literacy program in which 800,000 adults learned to read; increased electricity coverage in rural areas from 33 percent in 2005 to 51 percent in 2010 and contributed to overall economic growth and the diversification of the economy
Helped increase the number of female high school students pursuing post-secondary diplomas in the hydrocarbon sector and assisted 14 female interns in finding permanent employment in this sector
Helped improve the skills of 559 women in commercialization strategies, technical trades, and non-traditional occupations such as construction
2009-2010

Achievements 2009-2010

Children and youth

Helped the health services in Beni, Pando and Oruro to implement the national norms for planning, managing and providing health services
Helped achieve a significant increase in the numbers of births in health facilities (up to 74 percent in Beni, and 86 percent in Pando and Oruro)
Assisted mobile health brigades to increase service in targeted communities, from 65 percent in 2008 to the current 90 percent
Improved the number of children receiving a full set of vaccinations (up to 80 percent in Oruro, 87 percent in Beni, and 77 percent in Pando)
Provided 24 percent of infants with a nutritional supplement (up from 18 percent in 2008)
Provided 71 percent of pregnant women with at least four prenatal consultations (up from 63 percent in 2008)

Economic growth

Supported new cooperative industry in the production, transformation and commercialization of herbs and spices, notably oregano and essential oils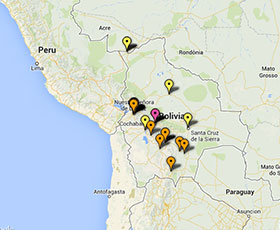 2012-2013 CIDA disbursements in Bolivia
Date Modified: