Burkina Faso
Table of Contents

Burkina Faso is one of the world's poorest countries. On the United Nations Development Programme's 2012 human development index, it ranks 183 out of 187 countries. In 2012, close to 45 percent of the population lived on less than US$1.25/day. About seven million Burkinabè are under 14 years of age. The school dropout rate remains very high. In 2011, 52 percent of children completed primary school and 17 percent completed secondary school.
According to the World Bank's 2012 Doing Business index, Burkina Faso has made progress in terms of ease of trading across borders. However, it has regressed in regard to the paying of taxes. GDP growth was significant in 2011 at 4.9 percent, although it was less significant than in 2010 at 7.9 percent (according to Statistiques mondiales, as of May 2012, in French). Since 2009, gold has supplanted cotton in export revenue. In 2011, gold production increased by 41 percent compared to 2010, while cotton production increased by 16 percent.
Burkina Faso is making progress toward the Millennium Development Goals. This progress can be seen in three areas:
People have more access to safe drinking water — the proportion of the population using improved drinking water rose from 60 percent in 2000 to 76 percent in 2008
HIV/AIDS is less prevalent—down from 7.2 percent in 1997 to two percent since 2006
Basic education is more available—the primary school enrolment rate rose from 44.4 percent in 2000 to 74.8 percent in 2009
Thematic Focus
In 2014, Burkina Faso was confirmed as a country of focus for the Government of Canada's international development efforts.
Canada's international development program in Burkina Faso supports the Government of Burkina Faso's Strategy for Accelerated Growth and Sustainable Development 2011-2015 (SCADD) (PDF, 1.68 MB, 99 pages), which identifies four major challenges:
Developing accelerated growth foundations
Reinforcing human capital and promoting social protection
Reinforcing good governance
Integrating crosscutting priorities in development policies and programs
The strategic direction of Canada's program in Burkina Faso is to help the country secure a future for children and youth, and stimulate sustainable economic growth.
Children and youth
From 2001 to 2011, Canada supported the Burkinabe government's ten-year primary education development plan. Since 2012, Canada has supported the Government of Burkina Faso's new initiative called the 10-year primary education development plan 2011-2020. This plan aims to improve educational services and make them more accessible and to develop a skills-for-employment training program for youth.
Canada also supports the implementation of Burkina Faso's national gender policy (PDF in French, 1 MB, 56 pages), which aims to make educational services more accessible to girls.
Key anticipated results
The percentage of girls and boys who will have finished primary school will increase from 40 percent to 75 percent
The percentage of youths who will have finished post-primary education, including vocational training, will increase from 16 percent to 34 percent
Economic growth
Canada continues to focus on improving microfinance and developing the agri-food sector. In cooperation with Denmark, the United Nations Development Programme, and the United Nations Capital Development Fund, Canada is supporting the implementation of Burkina Faso's national microfinance strategy (in French). This support was directed at projects that were operational in 2009.
Key anticipated results
Entrepreneurs and farmers use the financial services and products designed for them more frequently and more equitably. This resulted in the establishment of three new financial centres for entrepreneurs/financial centres for farmers
Workers in the agri-food sector will increase their sustainable productivity; for example, the daily yield of milk producers will increase from five litres to ten litres per cow
Progress on Aid Effectiveness
Burkina Faso adheres to the Paris Declaration on Aid Effectiveness (PDF, 317 KB, 23 pages).
The proportion of official development assistance allocated as budgetary support was 29 percent in 2007 and 38 percent in 2010. In addition, Burkina Faso is a model for best practices in public financial management in Africa, which is why 9 out of 10 of Burkina Faso's main donors provide it with general budgetary support. Canada is a member of the donor coordination group, and plays a leadership role among donors in education and microfinance.
Achievements
2011-2012

Achievements 2011-2012

Children and youth

Helped increase the number of primary education classrooms from 40,912 in 2010 to 43,661 in 2011, representing 76 percent of the target of 57,342, set for 2015
Helped increase the primary school enrolment ratio of girls to boys from 0.88:1 in 2010 to 0.91:1 in 2011 with a 2015 target of 0.92:1

Economic growth

Helped streamline Burkina Faso's largest credit union network to increase performance and provide targeted groups of customers with better quality services, reducing the total number of operating credit unions from 101 to 39
Helped finance 849 micro, small and medium-sized entrepreneurs exceeding the 2014 target of 680 entrepreneurs
2010-2011

Achievements 2010-2011

Children and youth

Helped increase the number of primary education classrooms from 40,912 in 2010 to 43,661 in 2011, representing 76 percent of the 57,342 target set for 2015
Contributed to increasing the girl/boy primary school enrolment ratio from 0.88/1.0 in 2010 to 0.91/1.0 in 2011, the 2015 target is 0.92/1.0

Economic growth

Helped 314 agricultural producers—106 of them women—gain access to technical services in order to boost their productivity and competitiveness. This enabled approximately 200 dairy producers to increase milk production by 38 percent between 2007 and 2010 from 22,378 litres to 31,012 litres
Contributed to the re-engineering of Burkina Faso's largest credit union network to increase its overall performance and provide targeted populations with better quality services—including reducing the total number of credit unions in operation from 101 to 39
Supported centres for entrepreneurs and farmers and financed 466 new entrepreneurs from the micro, small, and medium business sector, which will help increase their productivity, the target for 2014 is to reach 680 entrepreneurs
2009-2010

Achievements 2009-2010

Children and youth

Helped build almost 38,000 classrooms, as well as latrines, safe drinking water wells and housing for teachers

Economic growth

Helped 600 smallholder farmers increase their banana production by 17 percent
International Development Projects in Burkina Faso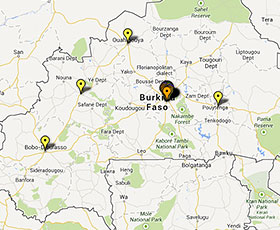 CIDA Disbursements in Burkina Faso: 2012-2013
Date Modified: