Burma
Burma is emerging from decades of isolation from the West and has launched a "triple-transition" agenda with ambitious goals for democratic reform, economic growth and peace-building. Since 2010, the Government of Burma has enacted a number of reforms to build a more just and peaceful society, one that provides economic opportunities for all its citizens. Despite the overall positive trajectory, Burma continues to face enormous challenges related to economic development, infrastructure, the rule of law, capacity of government institutions and peace and reconciliation.
With an estimated population of 52.8 million, of whom 25.6 percent live below the national poverty line, Burma is among the world's poorest and least developed countries. On the United Nations Development Programme's 2012 Human Development Index, Burma ranks 149 out of 187 countries.
Approximately 70 percent of Burma's citizens live in rural areas and depend upon agriculture for their livelihoods. Burma's border areas are home to numerous ethnic groups, which account for 40 percent of the country's population. Relations among the seven major ethnic groups and with the Burmese majority have been characterized by long-standing armed conflict: at the end of 2013, there were 640,900 internally displaced people in the country.
Between 1988 and 2012, in compliance with long-standing sanctions, Canada provided humanitarian assistance within Burma and longer-term assistance to the Burmese people through a "border area programming" approach, using geographic and multilateral (food aid) channels. For example, through the Burma Border Assistance Program: Building Social Capital, Canada is working with local partner organizations based in neighboring countries, primarily Thailand, to build their capacity to identify needs, deliver basic services, including health care, shelter and fuel to displaced and vulnerable communities on both sides of the border.
With the suspension of most economic sanctions, Canada can now expand its development assistance to Burma, working with Canadian and international partners to achieve its international development goals.
Canada's role
In 2014, Burma was confirmed as a country of focus for the Government of Canada's international development efforts.
To align with the international development priorities and needs identified by the Government of Burma, Canada will focus on implementing programs that stimulate sustainable economic growth and advance democracy. Canada will continue to provide humanitarian assistance as needed, working with Canadian and international partners and civil society to reduce poverty in Burma, especially in the areas of greatest need.
Although Canada does not have direct programming in MNCH in Burma Canada has improved the health of women and children by working with Canadian and global partners. See all maternal, newborn and child health projects in Burma.
Visit the Canada delivers results for the world's women and children page for more information.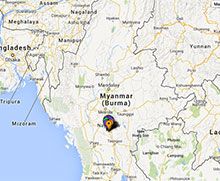 CIDA Disbursements in Burma: 2012-2013
Date Modified: