Mali
Table of Contents

Canada has been providing development assistance to Mali since 1962. In 2009, as part of Canada's new aid effectiveness agenda, Mali was selected as a country of focus for Canadian international development assistance.
In 2012, Mali ranked 182 out of 187 in the list of countries in the United Nations Development Programme's Human Development Index. In 2011, of a total population of 15.8 million, 50.4 percent lived on less than US$1.25/day and 46.6 percent was under 15 years of age. The country had an adult illiteracy rate of about 69 percent, and has higher rates of infant and maternal mortality, disease, and malnutrition than most countries in sub-Saharan Africa. In 2011, life expectancy at birth was just 52 years.
Mali experienced a political crisis that culminated in a military coup d'état that occurred on March 22, 2012. Canada condemned the coup and suspended the portion of its aid programs that involved direct payments to the Government of Mali. This suspension was lifted in February 2014.
Another crisis, a food crisis this time, created serious tension in Mali in 2011–2012, with low and erratic rainfall causing a decrease in food production. This crisis, the third of its kind since 2005, was aggravated by population displacements caused by insecurity in northern Mali.
Canada provided humanitarian assistance to help Malians cope with the crisis and Canada continues to respond to Mali's humanitarian needs, especially those of people living in northern Mali, where the effects of the conflict, as well as the 2012 food and nutrition crisis, are still being felt.
Thematic Focus
In 2014, Mali was confirmed as a country of focus for the Government of Canada's international development efforts.
DFATD's cooperation program in Mali aims to provide basic services to Malians. It focuses on health, education, food security and nutrition, while supporting reform to improve governance.
Development priorities identified in Canada's 2009–2013 Mali Country Strategy remain relevant, but approaches and key anticipated results will have to be adapted to the new context. The 2014–2019 country development strategy is currently being developed.
Canada's international development program in Mali is directly aligned with the Government of Mali's 2012–2017 Poverty Reduction Strategy Paper (PRSP III) (in French only) (PDF, 1 MB, 146 pages). This strategy identifies good governance, accelerated growth, sustainable job creation, equitable access to quality social services, and protection against vulnerabilities as Mali's priorities.
Children and youth including maternal, newborn and child health
Canada is helping Mali to decrease the mortality rate for children under the age of five through improved maternal, newborn and child health services. Under the Africa Health Systems Initiative, a Canadian program active in several countries, Canada continues to strengthen Mali's health system to achieve concrete progress toward the Millennium Development Goals. Canada is also putting an emphasis on basic education with a view to increasing gross enrolment rate at the primary school level and providing quality education.
Key anticipated results
reduce the maternal mortality rate from 970 deaths per 100,000 live births (in 2008)
reduce the infant mortality rate from 178 deaths per 1,000 live births (in 2010)
train community school teachers
provide assistance to increase primary school enrolment rates from 80 percent (in 2008).
Food security
Canada supports irrigation and agricultural development projects and promotes the use of new methods and techniques to increase food security and stimulate economic growth. In this way, subsistence farmers can increase crop yields, producing more food for their own consumption and for selling in local markets and neighbouring countries. This progress will help to strengthen food security and price stability in urban centres.
Canada supports the development of financial products suited to the agricultural sector, and seeks to make these products more available to people living in rural areas, to enable Malians to meet their socio-economic development needs, while helping to increase regional food security.
Key anticipated results
develop 9,550 hectares of farm land to ensure secure production of rice and market-garden vegetables
form small-scale organizations of rural producers, both women and men, to help educate farmers in the use of new farming and management techniques
strengthen rural organizations' ability to access agricultural credit and markets
Governance
Canada's continued support of the public sector will help ensure better access to judicial services for citizens, will improve the accountability of public officials, and help ensure adherence to contractual obligations. This will improve the business climate for investments and increase economic opportunities for the poor.
Canada will also strengthen the capacity of civil society organizations to monitor reforms and see to it that national policies focus on poverty reduction.
Key anticipated results
implement a larger percentage of the recommendations issued by the Office of the Auditor General of Mali in its reports
strengthen judicial control and inspection, and establish effective system for combatting corruption
reinforce civil society organizations' capacity in policy dialogue, analysis, research and citizen engagement around development policies.
Progress on Aid Effectiveness
In 2008, donors demonstrated their willingness to work together and harmonize development efforts through a joint country-assistance strategy aimed at improving the effectiveness of support to the Government of Mali's Poverty Reduction Strategy Paper (PRSP II) by ensuring an adequate division of labour. Canada is helping to develop the next joint country-assistance strategy, which will ensure effective harmonization and division of labour between the Government of Mali and its partners.
Cumulative achievements
Over the years, considerable success has been achieved in initiatives to reduce poverty, improve the health of women and children, improve Mali's education system, build the capacity of agricultural producers (both women and men), and improve good governance in Mali.
From 2001 to 2010, the proportion of Malians living under the national poverty line declined from 55.6 percent to 43.6 percent.
The proportion of immunized children under one year of age increased from 69 percent in 2007 to 92 percent in 2010.
Grain production rose from 3,693,240 tonnes in 2007 to 6,418,000 tonnes in 2010.
Achievements
2012-2013

Achievements 2012-2013

Children and youth including maternal, newborn and child health

Helped UNICEF to produce 850,000 textbooks urgently needed to give children displaced following conflict access to textbooks at their host schools.
Enabled community health centres in the Kayes region to respond to 80 percent of the health needs of mothers and newborns in their community in 2012, 14 percent more than in 2011.

Food security

Helped to construct and strengthen small-scale irrigation infrastructure to generate an additional 19,800 tonnes of rice produced in 2012, equivalent to the annual nutritional requirement of more than 243,000 Malians.

Governance

Helped educate political parties, civil society, and government institutions about electoral fraud and the management of potential electoral conflicts.
2011-2012

Achievements 2010-2011

Children and youth including maternal, newborn and child health

Distributed 615 tonnes of fortified food to 3,007 mothers and 24,233 infants and children.
Helped the Global Fund to Fight AIDS, Tuberculosis and Malaria provide HIV/AIDS treatment to 28,000 people, detect and treat 17,000 cases of tuberculosis, and distribute 720,000 anti-malarial, insecticide-treated mosquito nets between 2002 and 2012.
Provided three doses of a life-saving vaccine against diphtheria, tetanus, whooping cough, hepatitis B, and polio to more than 66,500 infants in 2010, helping to increase the national rate of protected infants from 69 percent in 2007 to 92 percent in 2010.
Helped to deliver more than 1.2 million new textbooks, ensuring that every primary school student received two textbooks.
Helped to increase the primary education completion rate from 56 percent in 2009 to 58 percent in 2011. Among girls, the increase was from 47 percent to 51 percent during the same period.

Food security

Provided 5,481 tonnes of food rations to 164,878 people in rural areas, including 82,863 women, through contributions to the World Food Programme (WFP).
Helped to develop 7,453 hectares of newly irrigated land, which yielded 12,778 tonnes of paddy rice and 900 tonnes of fresh fruit and vegetables annually, enough to meet the food needs of 157,000 people.

Governance

Helped the Office of the Auditor General of Mali to update its auditing methods using international standards.
Help to train judges, police, soldiers, and prison administrators in human rights, particularly women's rights.
2010-2011

Achievements 2010-2011

Children and youth including maternal, newborn and child health

Increased vaccination rates in Timbuktu from 58 percent in 2008 to 80 percent in 2009; in Gao from 90 percent in 2008 to 100 percent in 2009; and in Kidal from 39 percent in 2008 to 44 percent in 2009.
Helped increase the percentage of people living within five kilometres of a community health centre from 51 percent in 2006 to 59 percent in 2010; this was accomplished by training medical staff and constructing clinics.
Helped to increase, by 13 percent, the percentage of childbirths assisted by trained health-care providers, from 51 percent in 2003 to 64 percent in 2010.
Helped to increase the primary school enrolment rate from 77.7 percent in 2008 to 79.8 percent in 2010.
Helped to increase the primary school completion rate from 55.7 percent in 2008 to 59.7 percent in 2010.
Contributed to establishing a national model for distribution of textbooks to schools, which played a significant role in achieving an improvement in country-wide textbook distribution, with senior primary school students receiving more than three textbooks each.
Helped increase access to primary education by 9.4 percent for girls and 2.1 percent for boys since 2008.

Food security

Helped to increase production of grain—the staple food in Mali—from 3,693,240 tonnes in 2006–2007 to 6,334,440 tonnes in 2009–2010.

Governance

Helped the Office of the Auditor General of Mali to reduce fraud by conducting performance assessments.
CIDA disbursements in Mali: 2012-2013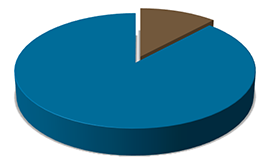 Date Modified: