Nigeria
Table of Contents
With a population of about 162 million, Nigeria is the most populous country in Africa—almost one out of every five sub-Saharan Africans lives within its borders.
Endowed with good access to skills, capital, technology, fertile land and mineral resources, Nigeria has enormous potential. The country's return to civilian government in 1999, followed by sound fiscal policy decisions, has brought economic stability and real gains in rural incomes. Nigeria is Africa's second-largest economy and its strategic geographic location makes its stability important to the region.
Yet the challenges Nigeria faces are staggering: the country ranks 153 out of 187 countries on the United Nations 2012 human development index, and more than three out of five Nigerians live on less than $1.25/day. The same number is under 24 years of age. Nigerians, particularly women and children, experience some of the worst threats to health in Africa. According to UNICEF, one Nigerian woman dies every 10 minutes due to complications from pregnancy and childbirth, while more than 500 newborns die daily. About 60 percent of Nigerian mothers give birth without the help of a skilled birth attendant. Nigeria also has low immunization coverage, high incidence of HIV/AIDS and is one of the three remaining endemic countries in the world for polio.
Nigeria is a young but stable democracy. Its public institutions are still fragile and face the challenge of encouraging unity in a country divided along lines of ethnicity, religion, regionalism and class—each with vastly opposing interests.
These divisions, along with disputes over access to resources, have escalated localized insecurity and conflict, particularly in the Niger Delta where oil production is concentrated. Oil represents 90 percent of Nigeria's government revenue, and the lower global price for crude oil that followed the global economic crisis precipitated a fiscal deficit which is continuing. This crisis also affected Nigeria's economy through declining investment.
Nigeria is also extremely vulnerable to the impact of climate change including rising sea levels, and changing seasons and rain patterns, which affect agriculture and increase desertification. Three out of four rural Nigerians depend on natural resources for their livelihood.
Thematic Focus
Canada draws on the priorities identified in Nigeria's National Economic Empowerment and Development Strategy (NEEDS) (PDF, 3.53 KB, 99 pages), along with the President of Nigeria's Seven Point Agenda, Vision 20: 2020 (PDF 8.88 MB, 133 pages) and state-level strategies, to guide its international development programming in Nigeria. The goal of Canada's international development program in Nigeria is to help the country achieve equitable and sustainable poverty reduction by improving the country's ability to use its own resources for development. Canada supports efforts that focus on securing a future for children and youth, and stimulating sustainable economic growth in two states: Cross River and Bauchi.
Children and youth, including maternal, newborn and child health
Canada continues to support efforts that help Nigeria reduce its high rate of maternal mortality by providing safe conditions for birth. Canada is also helping Nigeria increase child survival by improving primary health care systems at the local level and reducing preventable childhood diseases. This initiative includes support to enhance the skills and knowledge of front-line community health workers.
Selected examples of expected results
Canada, along with other donors, will contribute to the Government of Nigeria's objectives of:
Reducing maternal mortality rates from 704 per 100,000 live births to 176 per 100,000 by 2015
Increasing the percentage of children fully immunized against preventable childhood diseases from 31.4 percent to 100 percent by 2015
Economic growth
Canada is working with Nigerian organizations and government bodies to improve how the country manages its natural resources—these are key to long-term sustainable economic growth. These efforts include support for projects that help Nigeria adapt to climate change, set up ways for local groups to monitor use of natural resources and reduce environmental degradation where it directly affects people's livelihoods and food security.
Selected examples of expected results
More than 50 stakeholder groups, including women's groups, federal agencies, private sector groups, and local and state governments, will endorse the Nigerian Climate Change Adaptation Strategy
Some 70 pilot communities will take measures to adapt to climate change
Progress on Aid Effectiveness
Nigeria adheres to the Paris Declaration on Aid Effectiveness (PDF, 317 KB, 23 pages). Donors are working together to harmonize aid programs and align them with local priorities.
Canada supports efforts to improve harmonization, information and accountability in the Nigerian health sector, and signed the 2010 Health Sector Compact, initiated by the International Health Partnership. Through this commitment, Canada has increased efforts to work in harmonization with other development partners and to align its programs with the plans and priorities of the Government of Nigeria, particularly the Nigeria National Health Sector Development Plan (NSHDP 2010-2015) and the Integrated Maternal, Newborn and Child Health (IMNCH) Strategy.
Achievements
Achievements 2011-2012
Children and youth
Helped more than 1,400 community leaders in 60 communities use the data collected in the newly developed health management information system to improve maternal, newborn and child health and survival rates within their communities
Improved health care of pregnant women, mothers and newborns by introducing 1,000 medical custom-made kits now being used by community health extension workers in home visits to increase safe deliveries and improve postnatal care for mothers and newborns
Helped update the knowledge and skills of 40 primary health care providers from 18 local government areas through the development of new teaching tools
Economic growth
Helped document indigenous knowledge related to climate change adaptation and coping strategies, and reduce the level of poverty in 15 communities
Increased the food security of 530 people in 7 communities by introducing improved early maturing crop varieties for sorghum, millet, cowpea, groundnut, beniseed, rice, soya beans, maize and cassava
Contributed to the development of a National Adaptation Strategy and a Plan of Action for Climate Change in Nigeria, which was officially adopted by the Federal Ministry of Environment and announced at the international Climate Change Conference in Durban, South Africa in December 2011
Achievements 2010-2011
Children and youth
Distributed medical supplies and equipment to 14 primary health care clinics — which also provide training to new and experienced primary health care workers — in Bauchi and Cross River states
Trained more than 130 primary health care staff in how to collect, disaggregate and analyse health data in order to improve health systems
Economic growth
Helped pilot communities develop and use climate change adaptation measures — including adapting to rainfall variability and shortages by using different planting techniques and water management practices, rehabilitating ecosystems (to reduce desert encroachment), using energy efficient cooking devices, and diversifying livelihood opportunities — resulting in increased agricultural yields, and more food in households, with children better fed, and farmers able to pay school fees
Helped communities in 14 primary health care clinics in Bauchi and Cross River States improve environmental sanitation, including clearing of grass and stagnant water and proper waste disposal to better control malaria and diarrheal diseases
Achievements 2009-2010
Children and youth
Strengthened the capacity of health technology schools to provide appropriate, quality education to primary health care workers
Helped develop a gender-sensitive health information system to improve primary health care services for citizens and helped conduct the first data collection cycle, gathering vital health statistics on maternal health of 11,300 women of childbearing age in Bauchi and 14,200 in Cross River
Economic growth
Helped produce a gender and climate change toolkit for use across the country to strengthen the participation of women in climate change adaptation
Improved the livelihoods of resource-poor farmers by increasing their agricultural productivity while reducing environmental and land degradation
International development projects in Nigeria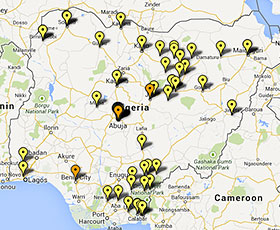 2012-2013 CIDA disbursements in Nigeria
Date Modified: