Senegal
Table of Contents

International development projects in Senegal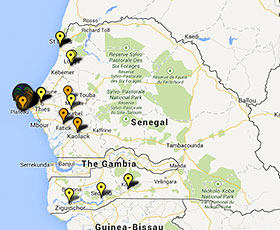 2012-2013 CIDA Disbursements in Senegal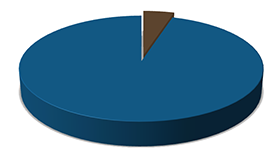 Overview
Senegal is one of the world's poorest countries. In 2011, 29.6 percent of its inhabitants lived on less than US$1.25 per day. It ranked 163 out of 187 countries on the United Nations Development Programme's 2013 Human Development Index. Wealth distribution in the country is very unequal, with a higher poverty rate in rural areas.
Senegal currently has approximately 14.13 million inhabitants, 53 percent of whom are under the age of 20 and 55 percent of whom live in rural areas. The country has low productivity and very high levels of unemployment and underemployment, especially among youth. Not everyone has access to basic education, and illiteracy is widespread, especially among women and girls. Environmental degradation is hindering development in some regions, where food security is threatened by such things as accelerating soil erosion, salinization and the disappearance of vegetation. Drought in the Sahel is exposing Senegal to recurring food and nutrition crises.
Senegal plays a lead role in Africa. It is an example of democracy and political stability in West Africa. The transition of power following the presidential elections of March 2012 and the legislative elections of July 2012 demonstrates the maturity of Senegal's democratic tradition.
In its new strategy for economic growth and poverty reduction—the Emerging Senegal Plan—introduced in February 2014, Senegal outlined its development priorities based on the following three key areas:
growth and development of new sectors that generate wealth, jobs and social inclusion;
improving living conditions for the populace and addressing social inequalities; and
governance, institutions, peace and security (including human rights).
Development assistance
Senegal is one of the Government of Canada's 25 countries of focus for international development efforts. Since 1969, Canada has been one of Senegal's development partners and has invested more than $1.2 billion in official development assistance there.
Canada's activities in Senegal are aimed at reducing poverty and fostering sustainable and inclusive economic growth for all Senegalese. This is in line with the objectives set out in the Emerging Senegal Plan.
The country strategy for Senegal (2009) guides Canada's development assistance support, and activities focus on Canada's priority themes: children and youth, and food security. Governance, the environment and gender equality are crosscutting themes in all of Canada's interventions in Senegal. Sustainable economic growth is also an increasingly large component of Canadian intervention.
On November 12, 2013, Canada and Senegal signed the Mutual Accountability Framework for development cooperation. This agreement is the first of its kind for Canadian cooperation. The goal of the framework is to reaffirm the foundations of transparent, effective and sustainable cooperation. The framework includes clear commitments, anticipated results and rigorous monitoring processes.
Development assistance priorities
Children and youth
Canada contributes to achieving the following objectives of improving:
quality of education; and
management of, and access to, basic education, especially for girls.
Key anticipated results
The gross enrolment rate of girls and boys in Senegal's basic education system will be higher.
A higher percentage of girls and boys will finish primary school.
A greater number of teachers will receive skills-based-approach training.
The new basic education curriculum will be implemented in the country's 7,500 schools.
The school environment will be safer and more conducive to learning.
Food security
Canada contributes to achieving the following objectives of:
increasing the output of small-scale farmers;
increasing product diversification and commercialization; and
improving access to microfinance in rural areas.
Key anticipated results
Agri-food production, diversification and marketing will be increased by improving the productivity of 16,000 small-scale producers in the Casamance, Niayes and Senegal River regions.
Access to markets, including more lucrative markets, will be improved for agricultural producers and processors.
Farmers and agricultural entrepreneurs, both women and men, will have better access to microfinance.
Progress on Aid Effectiveness
Under the leadership of Senegal's government, donor harmonization and coordination is improving from year to year, prompting the government to take more and more responsibility for development, and leading to increasingly effective donor cooperation.
There is a well-organized division of labour among the donors that are contributing to Senegal's development. Canada chairs the group of donors providing conditional budget support to Senegal, as well as the G-7 group supporting the New Alliance for Food Security and Nutrition. Canada is also coordinating the donors of the "Scaling Up Nutrition" Movement in Senegal and is one of the leading bilateral donors in the field of education, which provides Canada with the opportunity to further contribute to improving aid coordination and harmonization.
Achievements
2013-2014

Achievements 2013-2014

Children and youth

In 2013, 1.8 million Senegalese children were enrolled in school.
More Senegalese children now finish primary school, with a completion rate of 66.5 percent (2013). This is particularly true among girls (70.8 percent of girls versus 60.9 percent of boys). The reasons for this include a better distribution of education availability and a decrease in the dropout and repetition rates.
All 53,000 primary school teachers, including 17,500 women, and some 7,809 principals received training in the skills-based approach, a Canadian model.
Canada also contributed to a more direct improvement of the learning conditions of more than 75,187 students, including 36,332 girls, in 451 schools by improving the physical environment and providing food rations.
Activities to promote gender equality have also been successful, so much so that the number of girls at the primary level is now higher than the number of boys (98.6 percent of girls compared with 89.5 percent of boys).
The growing number of students receiving vocational and technical training hit 48,000 in 2013, compared with 37,516 in 2011, in such areas as mechanical and electrical fields, computers, refrigeration and air conditioning, food services, hairdressing and the sewing industry, to name but a few.
Canada helped the Government of Senegal to modernize its textbook-procurement procedures. This support provides for the distribution of some 4.5 million textbooks over four years to 1.8 million students at all elementary school levels in Senegal, ending the chronic shortage of textbooks throughout the country. For the beginning of the 2014 school year, Canada contributed to the entire process of procuring and nationally distributing more than 1.4 million French and mathematics textbooks.
In addition to radically improving teaching conditions at the elementary level, textbooks have been shown to be one of the tools that have the most impact on the quality of student learning.

Food security

Canada provided some form of support to 102,000 producers, including more than 54,400 women, in Niayes, Casamance and the Senegal River valley.
In total, Canada helped provide training to some 12,000 producers, including more than 6,500 women, to improve their farming practices in several production sectors, including honey, cashews, mangoes, forest fruits and casuarina wood.
Canada helped increase rice paddy production in the Senegal River Valley delta from 25,000 tons in 2008 to 56,917 tons in 2013, generating a 53-percent increase in revenues for farmers over that period (from 255,971 to 391,431 CFA francs per hectare).
This production increase accounted for 17 percent of Senegal's domestic production in 2013, narrowing the self-sufficiency gap. This increase is the equivalent of the annual consumption of about 400,000 people and 3.6 percent of the self-sufficiency gap.
Canada helped create 461 jobs, 272 of which are held by women, in the apian, cashew and fruit-processing sectors in Casamance.
Canada helped create 2,617 jobs, 1,496 of which are held by women, in the agricultural operations and processing sectors.
Canada helped computerize a total of 72 microfinance institutions at 226 locations, with some 190,000 members, all told.
Canada helped distribute food vouchers to 58,613 recipients, including 31,065 women, and set up 160 grain banks, benefiting 96,000 recipients, including 59,520 women, improving access to foodstuffs and increasing the household food consumption score from 6 percent to 34 percent in the regions of Ziguinchor, Kolda, Sédhiou, Matam, Tamba, Kédougou, Kaolack, Fatick, Louga and Saint Louis.
Canada helped treat 2,850 children under the age of 5 suffering from severe acute malnutrition, and 38,504 children between 6 and 23 months of age suffering from moderate acute malnutrition.
2012-2013

Achievements 2012-2013

Children and youth

In 2012, 1.78 million Senegalese children were enrolled in primary school.
The primary school completion rate was 60 percent in 2012 (63 percent for girls and 58 percent for boys).
Canada contributed to the vocational and technical training of 38,800 people, including about 21,000 women, in mechanical, electrical, computer, refrigeration and air conditioning, food services, hairdressing, sewing and other skills, which improved their integration into the labour market.
Canada helped train 13,000 teachers and principals, including 4,550 women.

Food security

Canada helped set up five organizations of producers;
Canada helped provide 13 training sessions for 253 people, 55 percent of them women, on the themes of organizational development, administrative and financial management, mango-drying techniques and management of the grant, marketing practices, gender concepts and changes to the Vautier hive.
Canada helped with the set-up of four 250-ton capacity storage facilities for cashew nuts in the regions of Kolda and Sédhiou, and the distribution of 5,789 cashew plants in Casamance.
Canada supported 6,150 rice farmers, including 2,117 women, in the Senegal River Valley. Through this support, they received access to quality seed, fertilizer and ploughing services to assist in the cultivation of 690 hectares of rice.
Canada supported 60 microfinance institutions and created 28 savings banks and credit unions, serving a total of 181,000 customers.
2011-2012

Achievements 2011-2012

Children and youth

In 2011, 1.7 million Senegalese children were enrolled in primary school.
The primary school completion rate was 61 percent in 2011 (63 percent for girls and 60 percent for boys).
Canada helped increase the number and physical quality of schools, the student teacher ratio, and the number of textbooks and desks, thereby improving the learning environment.
Canada helped train 13,292 preschool and primary school teachers.
Canada supported programs to improve the quality of education in 500 schools, benefiting 60,000 students.
Canada supported the work of the Global Fund to Fight AIDS, Tuberculosis and Malaria between 2002 and 2012 in providing HIV/AIDS treatment to 7,200 people, detecting and treating 19,000 cases of tuberculosis, and distributing 1.4 million insecticide-treated bed nets for the prevention of malaria.
With Canada's help, 41 textbooks were translated into local languages for 104,000 girls and boys in primary schools.

Food security

Canada helped increase the number of people using microfinance loans from 712,500 in 2005 to 1,620,000 in 2011, of whom 44 percent were women.
Canada established 50 new cereal banks serving 81,000 people, 30 percent of them women, thus making it possible to store grain until prices increase.
Canada helped increase food and financial security for farmers by having 2,147 farmers on 429 hectares of land switch to rice crops, for the direct benefit of 12,884 households.
2010-2011

Achievements 2010-2011

Children and youth

In 2010 1.7 million Senegalese children were enrolled in primary school.
The primary school completion rate was 58 percent in 2010 (59 percent for girls and 57 percent for boys).
Canada helped train 21,000 additional educators.
Canada helped build 3,447 new primary schools 2010, for a 42-percent increase in the number of schools, thereby making it possible for 587,295 additional students (a 50-percent increase) to attend school.
Canada helped improve learning in 370 schools in four regions of Senegal by improving physical, health, and nutrition environments for students.

Food security

Canada helped create 97 community cereal banks with more than 8,870 members in the Niayes and Casamance regions, and supported cereal bank efforts to allow members to store part of their harvest and sell it when market prices are higher, increasing their incomes.
News
Related Links
Date Modified: