International Development Week - February 5 to 11, 2017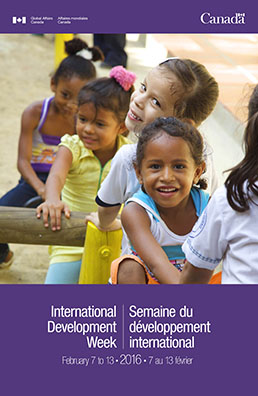 What is International Development Week?
International Development Week (IDW) aims to encourage Canadian women and men—especially youth—to learn more about and contribute actively to international development.
IDW also highlights what Canada and Canadians are doing to make a better world.
For many Canadians, as global citizens, this will be an opportunity to talk about what they have done to help reduce poverty in the world.
Since its inception in 1991, IDW has been held during the first full week of February.
IDW Videos
Ryan Hreljac's development story
Sangita Patel's development story
Tracey Evans' development story
What can you do during International Development Week?

Here is how you can participate actively in IDW:

Find out more about international development

Did you know that Global Affairs Canada is the primary department responsible for international development and humanitarian assistance? Learn more about the role that Canada and Global Affairs Canada play in international development. Read stories from the field posted on our website. Find out where we work, learn about our projects, and see for yourself the positive results we have achieved.

Organize an activity in the classroom or in your community

Want to celebrate IDW and organize an event? We have developed some tools to lend you a helping hand!

Consult the Global Affairs Canada learning kit on the health care of mothers, newborns and children around the world and plan an in‑class activity! The story of Maya and Thomas in Haiti and the Magic Feather is sure to captivate your pupils!

Have a look at our activity planning guide and organize an event in your community!

Participate

Take part in one of the many activities being organized in Canada by the partners below:
For more information
To find out more about IDW, email the IDW team or call 613-944-4000 in the National Capital Region or toll-free at 1-800-267-8376.
Date Modified: