Nutrition
Nutrition - Essential to improving and saving lives
Almost half of all children in the developing world who die before reaching their fifth birthday, die because they don't have enough nutritious food and essential vitamins and minerals, such as vitamin A and zinc, to fight off disease. Millions more become permanently mentally and physically disabled because of inadequate nutrition. Pregnant women who suffer from under-nutrition have a higher risk of complications and death, as do their babies. Beyond these human tragedies, there are also economic implications—researchers believe that these preventable deaths and disabilities also reduce a country's economic potential by at least 8 percent due to lost productivity.
Research has proven that children who receive adequate nutrition, particularly during their mother's pregnancy and until they are two years old—referred to by experts as the "1000 days window of opportunity"—are less likely to die or be made ill by diseases such as diarrhea, malaria, pneumonia, measles and HIV. It is also known that these children are more likely to stay in school, contribute to the needs of their family, and reach their full potential.
As part of the Copenhagen Consensus 2012, experts around the world recognized that investing in the delivery of nutrients to the world's undernourished will have tremendous benefits. The experts estimated that, on average, every dollar spent on nutrition to reach the world's most vulnerable sees a return of $30. Through these global nutrition investments, children will live longer, healthier lives and contribute to the development of their countries.
Canada's Leadership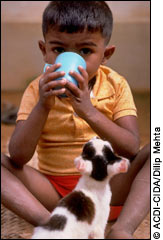 As one of the world's largest donor to basic nutrition programs, Canada has brought international attention to the issue of under-nutrition, and it supports critical nutrition programs that reduce child mortality.
Making nutritious, good-quality food and supplements more available and accessible in the developing world is a priority of Canada's Food Security Strategy. Improving the nutrition of women and children is also a key priority in Canada's Muskoka Initiative on Maternal, Newborn, and Child Health, launched in 2010, which aims to save the lives of women and children in developing countries.
Canadian nutrition investments help reduce global poverty, lessen the burden of disease and mortality related to under-nutrition and, at the same time, maximize resources effectively to produce meaningful, sustainable results.
Canada
is the founding donor of the Micronutrient Initiative, and

the largest donor to vitamin A programs worldwide since 1998, significantly contributing to the dramatic reduction in child deaths during the last fifteen years
a lead donor to the global effort to iodize table salt to help prevent iodine deficiency, the leading cause of preventable mental impairment.

supports UNICEF and Helen Keller International in delivering essential health and nutrition services that are saving the lives of children under five in Africa, through Child Health Days.
plays an active role in the Scaling Up Nutrition (SUN) movement launched in 2010. SUN brings together governments, the United Nations, private sector and civil society organizations and development partners to fight undernutrition. SUN focuses on implementing evidence-based nutrition interventions, including efforts to improve access to vitamin A, iron, zinc and other critical nutrients, in addition to working at the country level to improve nutrition planning.
is an active member of the New Alliance for Food Security and Nutrition, a global commitment launched in 2012 by the G-8, working closely with countries, particularly within Africa, to reform agriculture policies and promote country-specific approaches and commitments related to agricultural growth. Through the alliance, Canada also supports programming to secure private-sector investments, develop agricultural technologies and research innovations as well as support small-scale farmers, women in particular, to grow nutritious and diversified crops.
is a long-term supporter of the Consultative Group on International Agricultural Research and HarvestPlus and their efforts to biofortify food—breeding higher amounts of critical micronutrients such as iron, zinc and vitamin A into staple food crops such as wheat, rice and cassava.
is a long-term partner of both the World Food Programme (WFP) and the Canadian Foodgrains Bank and works with these organizations to improve nutrition and increase food security in developing countries around the world.
is the lead donor to REACH, a partnership between UNICEF, WFP, the World Health Organization and the Food and Agriculture Organization designed to support developing-country governments in building national capacity to scale-up nutrition programs and integrate nutrition with other development efforts.
is leading work with other donors to track donor spending on nutrition to ensure greater accountability.
is working with national governments and other donors to improve coordination, alignment and harmonization of efforts to scale up nutrition. Canada plays an active role in SUN policy development in Bangladesh, Ethiopia, Ghana, Malawi, Mali and Mozambique.
Canada's nutrition priorities
As a strong supporter of the SUN movement, Canada has three nutrition priorities in the developing world:
Preventing and treating under-nutrition
Canada's development programming supports countries in promoting good nutrition practices, such as breastfeeding, and in distributing essential vitamins and minerals, such as vitamin A, zinc, iron and folic acid. Examples include support for:
Integrating nutrition into other development efforts
Canada's development programming includes a focus on nutrition in agricultural, school feeding and health programs. Support for crop diversification ensures that more than one type of crop is being grown, and biofortification improves the vitamin and mineral content of food. Examples include support for:
Helping countries prepare sound national plans and programs to improve nutrition
Canada supports government departments in developing countries to work with donors, civil society organizations and other key partners. An example includes support for:
Recent achievements in fighting under-nutrition
Canada's efforts are helping to reduce poverty, disease and death:
In 2011, with support from Canada and other donors, the WFP reached 99.1 million people in 75 countries with 3.6 million metric tonnes of food and nutritionally improved products.
Canada helped feed approximately 23 million children through school feeding programs in 2011, nearly half of whom were girls.
In 2012 alone, support for the Micronutrient Initiative helped provide:

approximately 200 million children with vitamin A supplements
iodized salt for close to 300 million people
zinc and oral rehydration salts to treat more than 5 million children for diarrheal disease

Canada's support has helped the number of children receiving two doses of vitamin A supplements annually to increase from 16 percent in 1999 to 86 percent in 2010, significantly contributing to a global reduction in child deaths, which have decreased to 7.6 million annually from 12.4 million in 1990.
Canada's support for salt iodization—critical for child development—has helped bring the number of people who have access to iodized salt from below 20 percent in 1990 to more than 70 percent today.
In Ethiopia, Community Health Days, organized with Canada's support in 100 districts, provided 1.5 million children younger than the age of five with vitamin A supplements and dewormed one million children between the ages of two to six.
In Ghana, support to WFP has resulted in the delivery of food to nearly 328,000 malnourished people, and provided supplementary feeding to 67,000 children, as well as 101,500 pregnant and breastfeeding women.
In Malawi, Canada's support has led to an increase in community therapeutic care coverage from 42 percent to 84 percent and helped purchase 184 metric tonnes of ready-to-use therapeutic food such as peanut-based spreads to treat acute malnutrition in children, representing 33 percent of the national requirement.
With support from Canada, HarvestPlus released three cassava varieties (a root vegetable) enriched with vitamin A in cooperation with Nigerian authorities and began to deliver seeds and stalks of biofortified crops in Nigeria, Rwanda, and Zambia.
With support from Canada, the Canadian Foodgrains Bank provided food aid, nutrition programs and agricultural assistance to 2.2 million people in 36 countries in 2011-2012.
Ending under-nutrition is a long-term effort and critical to achieving some of the Millennium Development Goals (MDGs) by 2015: to eradicate hunger (MDG 1), to reduce child mortality (MDG 4), to improve maternal health (MDG 5) and to help combat HIV/AIDS, malaria and, other deadly diseases (MDG 6).
Related Links
Date Modified: