When the Child is Healthy, the Mother is Happy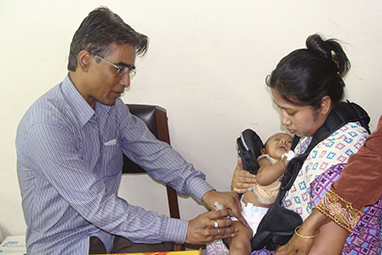 © DFATD
With Canada's support, the Expanded Program on Immunization clinic in Dhaka provides life-saving vaccinations to young patients.
Syeda Sultana Roushan Jahan, a 40-year-old mother of two, has visited Bangladesh's Expanded Program on Immunization (EPI) headquarters in Dhaka many times. It is where she came to get her first child immunized and now, on this warm and sticky morning, she has come back to start vaccinations for her second baby. With the calm of an experienced mother, she watches as the doctor holds part of the baby's thigh and slowly inserts the needle. The child starts to wail and Syeda laughs and bends her head down to kiss his tears. She knows the vaccine will help to build up her baby's immune system and protect him from deadly diseases. "When the child is healthy, the mother is happy," she says with a smile.
Syeda is one of a dozen mothers at the clinic. Bangladesh's EPI, which was introduced by the Government in 1979 with the help of UNICEF, is one of the country's biggest success stories. As recently as 1985, only about two percent of Bangladeshi children were vaccinated against preventable diseases. Today, that percentage has reached 82.5 percent—and is still rising.
The EPI's objective is to eradicate vaccine-preventable diseases in Bangladesh. With the support of donors like Canada, the EPI is credited with preventing approximately 200,000 deaths a year in Bangladesh. Its success in achieving and maintaining polio-eradication status, and in staying on course to eliminate measles by 2016, is widely acknowledged—even in rural areas.
"EPI is doing good things in our country," says Syeda. "Everyone is quite pleased with this program because, so far, in the rural areas everyone is completing these free vaccinations. We rarely see someone suffering from polio or tuberculosis, so we are doing well."
The EPI is large-scale, with 140,000 active sites across the country and more than 50,000 government employees playing a role—a mix of health and family welfare assistants, and front line supervisors. To expand its reach, at all of its sites the EPI has a bright yellow flag featuring a baby in the centre so that it is recognizable even to illiterate parents. According to Syeda, it has become a very popular sign in Bangladesh.
Canada's current multi-year contribution to the EPI—known as the Immunization Strengthening Project—seeks to further improve the provision of vaccines in the country and reach children who live in underserved and hard-to-reach areas, such as islands, hilly areas, slums and floating communities.
To make this happen, Canada is helping in the procurement and installation of equipment, such as cold rooms and ice-lined refrigerators (ILRs), to ensure the proper storage and safe handling of vaccines. In addition to ensuring that no vaccine is wasted or misused, such facilities are necessary for the EPI to battle potentially deadly or crippling diseases like tuberculosis, polio, measles and tetanus. This has increased the percentage of children under two who receive all vaccines with the right antigens, at the right time, from 79 percent to 85 percent.
In Bangladesh, as in any country with a high population density, the battle against preventable and infectious diseases is hard-fought. But the Immunization Strengthening Project, which falls under Canada's top development priority of improving maternal, newborn and child health, contributes greatly to levelling the playing field.
Date Modified: