Canada Helps Deliver Childbirth Education in Ethiopia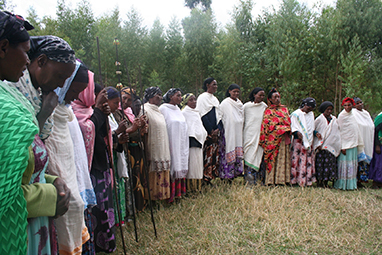 In Ethiopia, many women give birth in their homes, especially in rural areas. With some of the highest rates of maternal and child mortality in the world, these home births can put both the mother and the baby at risk.
Traditionally, birth attendants oversee childbirth and provide support to mothers and their new babies. They know the families they work with and they are a valued part of the community. Yet, they do not have the training or equipment to assist when there are complications.
To improve the health and chances of survival for these mothers and babies, traditional birth attendants play an important role. They provide advice to mothers about their pre-natal care and speak of the benefits of delivering babies in an equipped government health centre or hospital where trained staff take care of the mothers and newborn babies.
One of Canada's international development projects underway in Ethiopia, Improving Maternal and Child Health: Partnership and Action for Community Transformation (IMPACT), is designed to change the role of traditional birth attendants in three rural districts: Damot Pulasa, Arsi Negele, and Adaa. With new priorities in mind, the birth attendants continue to work with pregnant mothers to educate them on the benefits of giving birth in one of the local medical facilities. They support mothers and new babies when they come home, offering advice about nutrition, child-feeding practices and basic infant care.
"Birth attendants like me cannot help when complications occur," admits Genet Briso, 60, a traditional birth attendant in the Arsi Negele district. Her inability to assist during a childbirth complication does not stem from an unwillingness to help, but rather from a lack of knowledge and resources.
Since early 2012, the project has already provided more than 690 traditional birth attendants and 290 community leaders with education about harmful traditional practices and risks of home deliveries. Thanks to the training she has received, Genet Briso, along with her cohorts, now understands the importance of assisted delivery methods that promote a safe and healthy environment for both mother and newborn: "From the training, I have come to understand that mothers can get all the help they need from health professionals," says Briso.
In these often isolated areas, traditional birth attendants have worked to educate mothers on proper and consistent use of the 42,120 long-lasting insecticide nets distributed by the IMPACT project, helping protect 14,151 pregnant women, 38,055 children and 25,752 other family members from malaria.
An equally important aspect of this project is the training provided to the health workers on safe, clean delivery, and emergency obstetric care as well as the establishment of equipped neonatal care units and health centres.
Midwives at local government health centres are encouraged by the changes the project has introduced, "I wanted to be a midwife to help women and children in my community, but before the training, I did not have the confidence to handle birth complications," says Dirbe Feyissa, a midwife working in the Kelo Health Centre. "After taking the basic obstetric care training, I and my colleagues are now able to manage even breach cases, which in the past we would not have been able to manage," she adds.
Changes at the community level and better access to quality health care for mothers and babies help improve the odds of survival for Ethiopian mothers and their children. As part of Canada's commitment to improving the health and welfare of mothers and children in the developing world, projects such as IMPACT work to reduce the number of preventable deaths and support the development of local health care systems that are supportive of communities, customs and culture.
Date Modified: