Choose Your Experience - Select a Category
How Do You Want To Travel and Work Abroad?
Do you have an adventurous spirit? A willingness to challenge the unknown and identify your own opportunities? Through International Experience Canada (IEC), you can customize your own year-long work holiday abroad by:
International Experience Canada secures arrangements and agreements with different countries around the world to make it easier for you to travel and work in another country for up to one year.
Choose Your Experience
Click on the images below to spark your own travel ideas and get the information you need to choose the right travel and work abroad experience for you.
Working Holiday
Young Professional
International Co-op
---
Fund Your Vacation!
Ages 18-35 *
Examples of Industries: Tourism and Hospitality
Supplement your travel experiences with temporary work abroad.
Find out more about Working Holiday
Add to Your Resumé!
Ages: 18-35 *
Examples of industries: Science, Law, Health, Education, and Commerce, Finance, Communications, etc.
Gain professional international work experience to better compete in a global economy.
Find out more about young professionals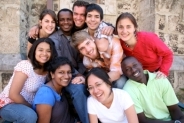 Spend Your Co-op Term Abroad!
Ages: 18-35 *
Industries: Science, Law, Health, Education, Commerce, Finance, Communications, etc.
Acquire valuable overseas work experience related to your field of study.
Read stories from other Canadians just like you who have travelled and worked abroad through International Experience Canada.
Still have questions? Check our FAQ page for answers to commonly asked questions.
---