Canada signs a Memorandum of Understanding on Youth Mobility with Costa Rica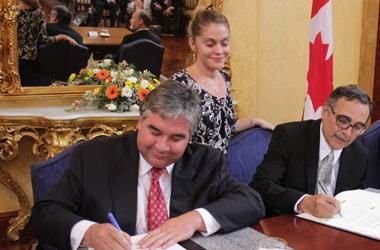 The Honourable Peter Van Loan, Minister of International Trade and Minister of Foreign Affairs of Costa Rica, René Castro, signed a Memorandum of Understanding (MOU) on Youth Mobility on August 27, 2010 in San José, Costa Rica.
This MOU marks the 30th bilateral arrangement on youth mobility and the first in Central America.
The MOU will make it easier for qualified Canadian and Costa Rican citizens, aged 18 to 35, to travel and work in each other's country for up to one year.
Please visit the web site to find out when candidates will be able to submit their application.
Consult the Press release of this announcement.