Past Participants
Valérie Cardinal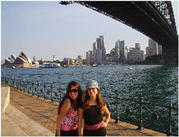 In the summer of 2006, I had just graduated from university with my first degree and was faced with the daunting question of whether to do my master's degree right away or take advantage of one of the many opportunities to go away for a few months of adventure. As luck would have it, a friend of mine also wanted to travel "halfway around the world," which made the decision quite easy.After we agreed on the working holiday category of the International Youth Programs, we had two options: organize our trip ourselves or ask an International Youth Programs partner for help. At first, we looked into the SWAP partner—cost, possible working holiday program destinations, etc. But after talking it over, we decided to do everything ourselves without the help of a partner so we could stretch our finances and fully experience this new challenge and all the steps that went with it.
Australia was to become our adopted country…
It was a thrill to arrive in Sydney and get settled in, and within three weeks, I had become a "Sydneysider" with a new job, a new apartment and a new bank account. I was fortunate to arrive in mid-October, and with the Christmas season approaching, it wasn't hard to find a job in one of the city's finest banquet halls. So, for several months, I took advantage of the best Sydney had to offer: its many beaches just a half hour from downtown, its summer festivals, its nightlife, and best of all, one of the biggest New Year's celebrations ever, complete with its famous fireworks from the Harbour Bridge.
Using my savings, I then spent several weeks exploring Melbourne and other parts of Australia's magnificent and very popular East Coast and took a quick trip to South Korea before returning home. My goal had been achieved: I had visited a new part of the world without getting into debt, improved my English and made new friends.I liked Australia very much because I think it's a paradise for the thousands of foreigners who arrive there each year on working holiday work permits. The tourist infrastructure is well developed and I had no trouble finding a job. And there's always the chance to meet others in the same situation from all over the world.Coincidentally, I currently have the opportunity to do an internship that is directly related to the International Youth Programs as part of my master's program. So to the hesitant or those who are wondering about the benefits of such an adventure, I would simply say that you will probably never fully realize how life-changing such an international experience is until you actually try it.
It's a great opportunity, one that will enrich your life experience and prove useful when you least expect.Let me finish by saying "No worries mates! Enjoy… and don't be afraid to eat a vegemite sandwich!"