Celina Caesar-Chavannes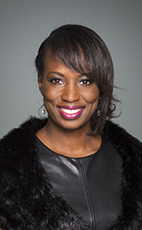 Parliamentary Secretary to the Minister of International Development
(Whitby)
Celina Caesar-Chavannes is a successful entrepreneur and the recipient of both the Toronto Board of Trade's Business Entrepreneur of the Year for 2012 and the 2007 Black Business and Professional Association's Harry Jerome Young Entrepreneur Award. Ms. Caesar-Chavannes was a well-known research consultant and worked with a variety of private, government and non-government organizations.
An international lecturer on the inclusion of marginalized populations in clinical research, Ms. Caesar-Chavannes has a Bachelor of Science from the University of Toronto, an MBA in Healthcare Management, and an Executive MBA from the Rotman School of Management. She is a past member of the Governing Council of the University of Toronto. She also served as member of the Institutional Advisory Board of the Institute of Neurosciences, Mental Health and Addiction, part of the Canadian Institutes of Health Research. She is also a member of the Congress of Black Women.
Ms. Caesar-Chavannes served as Parliamentary Secretary to the Prime Minister from December 2015 to January 2017.
Ms. Caesar-Chavannes has deep roots in Whitby, where she lives with her husband and three children.