Statistical Report on International Assistance 2012-2013
Amalgamation of Canadian International Development Agency (CIDA) and Department of Foreign Affairs and International Trade (DFAIT)
On June 26, 2013, the Budget Implementation Act (Bill C-60) received Royal Assent, creating the Department of Foreign Affairs, Trade and Development. The new department, Foreign Affairs, Trade and Development Canada (DFATD), will continue to serve the same functions as those previously served by DFAIT and CIDA.
Since this report covers a period prior to the amalgamation (2012–2013), the former Canadian International Development Agency and the former Department of Foreign Affairs and International Trade are represented as two separate entities. Starting fiscal year 2013–2014, all of DFATD's expenditures will be represented as one entity.
About this report
This is an annual Statistical Report on International Assistance prepared by the Department of Foreign Affairs, Trade and Development (DFATD) on behalf of the Government of Canada. This report presents a comprehensive and detailed account of Canadian International Assistance in 2012–2013, published in accordance with the Official Development Assistance Accountability Act (ODAAA or the Act).
Under the Act, the Minister of International Development is required to issue two key reports on behalf of the government: a summary-level report six months after the end of each fiscal year, and an annual statistical report one year after the end of each fiscal year. In addition to meeting the second reporting requirement under the Act, this report provides a single source for international assistance expenditure statistics, including official development assistance (ODA) and other official assistance, for Canada as a whole.
The report is presented on an expenditures basis consistent with other government department reporting. Expenditures are counted when the payment is recorded in the accounting systems, with the understanding that organizations receiving Canadian funding would utilize it over the length of the project. Repayments of loans previously extended to developing countries are shown as information items in this report. The breakdown presented in the various tables is based on the most up-to-date information available at the time of compilation and reflects the information provided to DFATD by other government departments and other levels of government (provincial and municipal).
The report uses international standards that facilitate historical comparison as well as comparison with reports from other international assistance donors. For example, some costs such as refugee resettlement are calculated based on agreed-upon international standards. Such standards are regularly revised in forums such as the Development Assistance Committee of the Organisation for Economic Co-operation and Development (OECD-DAC) to improve reporting and better capture the evolution of international assistance.
Understanding this report
The terms and definitions used in this report are consistent, where possible, with international reporting standards such as those agreed upon at the Development Assistance Committee of the Organisation for Economic Co-operation and Development (OECD-DAC). For more information, please refer to the Glossary in Annex 5.
The term "international assistance" refers to any financial resource provided by Canadian governments (federal, provincial, or municipal) in favour of development assistance. It is important to note that not all international assistance is considered official development assistance (ODA).
Canada is subject to two definitions of ODA: one defined by the Development Assistance Committee (DAC) of the Organisation for Economic Co-operation and Development, and the other defined by the ODA Accountability Act (ODAAA).
The vast majority (97 percent) of Canada's international assistance is considered ODA, as defined by the OECD-DAC (denoted as ODA). ODA represents "those flows to countries and territories on the DAC List of ODA Recipients and to multilateral institutions which are:

provided by official agencies, including state and local governments, or by their executive agencies; and
each transaction of which:

is administered with the promotion of the economic development and welfare of developing countries as its main objective; and
is concessional in character and conveys a grant element of at least 25 percent (calculated at a rate of discount of 10 percent)."

ODA in the federal context, as defined by Canada's Official Development Assistance Accountability Act (denoted as ODAAA), is compatible with the definition above, and must meet the three criteria set out in section 4.1 of the Act: contribute to poverty reduction; take into account the perspectives of the poor; and be consistent with international human rights standards. By its nature, ODA in the federal context excludes international assistance provided by provinces, territories, and municipalities.
The International Assistance Envelope (IAE) is a dedicated pool of resources that enables the Government of Canada to deploy its international assistance nimbly and responsively. The IAE funds 88 percent of Canada's international assistance. The envelope is used to fund the majority of Canada's ODAAA-related activities, and other specific activities that do not meet the definition of ODA, such as certain peace and security efforts and non-concessional loans for international climate change initiatives.
Figure 1 – International Assistance
Note: overseas programs that are not ODA, nor funded by the IAE, such as military operations are not considered international assistance.
Other technical notes on reporting
Timing of payments: the report presents figures on an expenditures basis whereas the IAE budget is set on an issuance basis. This is relevant because the majority of international assistance projects span multiple years, and amounts allocated to a project's budget are not necessarily spent in the same fiscal year.
The terms "bilateral" and "multilateral" in this report refer to internationally accepted definitions (see Glossary in Annex 5). For multilateral assistance, the purpose (sector) in Table B1 and the destination (recipient) in Table D3 are estimates based on reports prepared by multilateral organizations on their spending in the previous year. These estimates are prepared according to international standards and provide a breakdown of Canadian multilateral assistance (See "multilateral assistance" in the Glossary for the complete explanation).
Consistent with international standards, payments are reported in the year the government makes them, rather than when they are used by the ultimate recipientFootnote 1 . For example, spending to developing countries through multilateral long-term institutional support is estimated based on when the payment to the organization is recorded and may not necessarily reflect the actual use of funds. In addition, many trust funds that aim to catalyze additional funding from other investors and donors typically need to reach a certain funding threshold before disbursements begin.
Rounding errors (also known as round-off errors) are common occurrences in financial/statistical reporting that result from rounding approximations when truncating decimal places. As such, details presented in this report's tables may not add up to exact totals due to rounding.
Government of Canada's Commitment to Aid Transparency
This statistical report is part of the Government of Canada's commitment to transparency. To further enhance the efficiency and accountability of Canada's international assistance, DFATD does the following:
provides all parliamentary reports as required (such as the Departmental Performance Report);
tables annual summary reports to Parliament on behalf of the Government of Canada on preliminary official development assistance expenditures;
publishes a periodic report, Development for Results;
publicly discloses on its website, on a quarterly basis, all contract awards over $10,000 and all grants and contribution awards over $25,000;
outlines the country development plan for each country of focus, including country program disbursements and the objectives being supported, on the development page of the DFATD website;
maintains the International Development Project Browser, which contains up-to-date profiles for projects funded by the former CIDA and DFATD;
maintains the OpenData Web portal, a single online source for all DFATD international development statistical data;
makes its evaluations, audit reports, and strategic environmental assessment (SEA) statements available to the public on the DFATD website;
reports to the Development Assistance Committee (DAC) on Canadian international assistance through its renowned "DAC.Stats" database populated with statistics from most donor countries and major multilateral organizations.
In addition, former CIDA joined the International Aid Transparency Initiative (IATI) in November 2011, underscoring its commitment to being more transparent. As of January 31, 2014, DFATD had published its sixth set of quarterly data.
Similarly, the International Development Research Centre (IDRC) provides open, online access to information of all IDRC's projects since 1970, including details on project location, objectives, funding, recipients, and evaluations via idris.idrc.ca.
Table 1 – Canadian international assistance by department or source
2012–2013 disbursements in C$ millions, gross basis
Department/Source
International assistance
of which
Programs funded by the IAE
ODA: ODAAA (Statistical Report)

Footnote

*
ODA: OECD-DAC

Footnote

**
Difference (OECD-DAC minus ODAAA)
Departments reporting under the ODAAA
Canadian International Development Agency
3,446.32
3,440.31
3,445.56
3,445.56
-
Department of Finance
604.85
604.85
544.57
544.57
-
Foreign Affairs and International Trade Canada
431.35
427.78
333.53
333.53
-
International Development Research Centre
254.59
254.59
254.59
254.59
-
Export Development Canada (Official Bilateral Debt Relief)
197.43
-
197.43
197.43
-
Health Canada
11.87

na

11.87
11.87
-
Public Health Agency of Canada
11.74

na

11.74
11.74
-
Environment Canada
52.61
29.85
52.61
52.61
-
Royal Canadian Mounted Police
34.19
34.19
34.10
34.10
-
Natural Resources Canada
3.57
3.57
3.57
3.57
-
Parks Canada
2.16

na

2.16
2.16
-
Employment and Social Development Canada
1.90

na

1.90
1.90
-
Industry Canada
0.87

na

0.87
0.87
-
Transport Canada
0.29

na

0.29
0.29
-
Citizenship and Immigration Canada
112.51

na

112.51
112.51
-
Services received by CIDA from other government departments
25.18
9.85
25.18
25.18
-
Subtotal - Departments reporting under the ODAAA
5,191.42
4,805.00
5,032.49
5,032.49
-
% of international assistance

na

93%
97%
97%

na

Other departments/sources
Cost of refugees in Canada (provincial)
97.44

na

na

97.44
97.44
Foreign student subsidies
165.32

na

na

165.3
165.3
Provincial and municipal assistance programs
28.99

na

na

28.99
28.99
Subtotal - Other departments, sources
291.74
-
-
291.74
291.74
Total
5,483.16
4,805.00
5,032.49
5,324.23

na

% of total international assistance

na

88%
92%
97%

na
Fiscal year 2012–2013 in review
Distribution of International Assistance by Source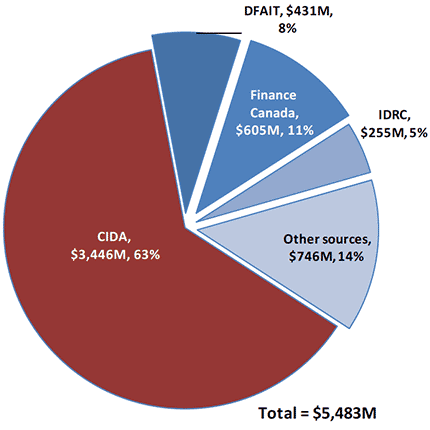 In fiscal year 2012–2013, the volume of Canada's international assistance from all sources (federal, provincial, and municipal levels of government) reached $5.48 billion. The breakdown below summarizes the distribution by source of funding:
CIDA provided 63 percent ($3,446.32 million).
Department of Foreign Affairs and International Trade (DFAIT) provided 8 percent ($431.35 million).
International Development Research Centre (IDRC) provided 5 percent ($254.59 million).
The Department of Finance provided 11 percent ($604.85).
For more details, please refer to Table A in this report.
Geographic distribution of international assistance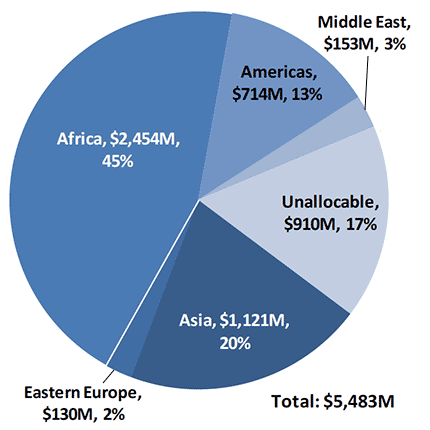 The following breakdown provides an overview of distribution by geographic area:
Africa received the largest portion of Canadian international assistance in fiscal year 2012–2013, with $2.45 billion, or 45 percent, up from $2.39 billion in 2011–2012.
Asia received $1.12 billion, or 20 percent of total international assistance.
Americas received $714 million, or 13 percent.
Eastern Europe received 2 percent with $130 million.
Middle East received 3 percent with $153 million, up from $122 million in 2011–2012.
Unallocable refers to costs that are global in nature and do not relate to a particular recipient or region (e.g. costs of refugees in Canada. See Glossary for more information). The share of unallocable expenditures equalled to 17 percent of the total in 2012–2013. For more details, please refer to Table D1 in this report.
Top 20 country recipients of Canadian international assistance
Detailed below are the top 20 country recipients of Canadian international assistance. The top 3 country recipients in fiscal year 2012–2013 were Tanzania, $188.99 million, Ethiopia, $181.14 million, and the Democratic Republic of Congo, $157.09 million. For more details, please refer to Table D2 and Table D3 in this report.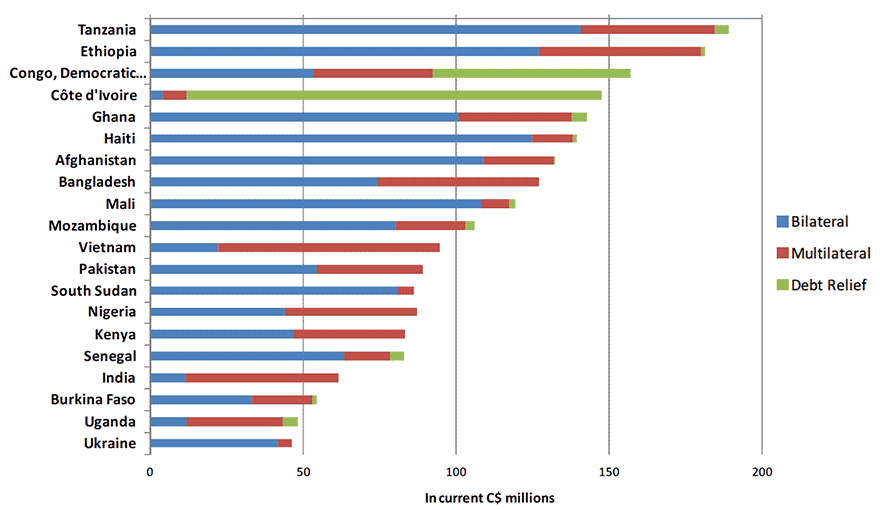 Description of graphic: Top 20 recipients of Canada's international assistance

Current C$ Millions

| Top 20 | Bilateral | Multilateral | Bilateral Debt Relief | Total | Rank |
| --- | --- | --- | --- | --- | --- |
| Tanzania | 140,697,436 | 43,863,681 | 4,430,644 | 188,991,761 | 1 |
| Ethiopia | 127,110,532 | 52,726,233 | 1,303,131 | 181,139,896 | 2 |
| Congo, Democratic Republic | 53,540,528 | 38,816,783 | 64,738,191 | 157,095,503 | 3 |
| Côte d'Ivoire | 4,232,444 | 7,633,274 | 135,554,696 | 147,420,413 | 4 |
| Ghana | 100,739,721 | 37,239,099 | 4,560,957 | 142,539,777 | 5 |
| Haiti | 124,922,942 | 13,206,880 | 1,303,131 | 139,432,952 | 6 |
| Afghanistan | 108,865,827 | 23,019,032 | 65,157 | 131,950,016 | 7 |
| Bangladesh | 74,164,707 | 53,051,853 | 0 | 127,216,561 | 8 |
| Mali | 108,432,771 | 8,861,785 | 2,019,852 | 119,314,407 | 9 |
| Mozambique | 80,506,130 | 22,606,188 | 2,801,731 | 105,914,049 | 10 |
| Vietnam | 22,372,229 | 72,264,118 | 0 | 94,636,347 | 11 |
| Pakistan | 54,614,088 | 34,415,543 | 0 | 89,029,631 | 12 |
| Nigeria | 44,222,750 | 42,996,860 | 0 | 87,219,610 | 13 |
| South Sudan | 80,955,662 | 5,252,685 | 0 | 86,208,347 | 14 |
| Kenya | 46,961,169 | 36,386,464 | 0 | 83,347,633 | 15 |
| Senegal | 63,535,680 | 15,001,637 | 4,430,644 | 82,967,961 | 16 |
| India | 11,528,790 | 50,112,881 | 0 | 61,641,671 | 17 |
| Burkina Faso | 33,288,274 | 19,907,575 | 1,172,818 | 54,368,667 | 18 |
| Uganda | 11,978,401 | 31,415,308 | 4,821,583 | 48,215,292 | 19 |
| Ukraine | 41,854,845 | 4,604,785 | 0 | 46,459,630 | 20 |
The East African country of Tanzania demonstrated strong progress on economic and development goals, although poverty continues to afflict about 30 percent of the population (ranking 152 out of 186 countries as per the Human Development Index). CIDA's programming in Tanzania focused on securing the future of children and youth, stimulating sustainable economic growth, and promoting more accountable and inclusive governance. In October of 2012, Canada announced six new initiatives to further development in Tanzania, including Maternal, Newborn, and Child Health (MNCH), initiatives supporting public financial management, and increasing transparency in extractive industries. The initiatives under MNCH are contributing to making progress in child survival and maternal health. Examples of results achieved in 2012–2013 include the increase in the use of insecticide-treated bed nets to combat malaria by pregnant women and children, and an increase in the number of health facilities providing reproductive and child health services. Canada's strategic and early support of the Extractive Industries Transparency Initiative (EITI) in Tanzania is contributing to greater accountability in government and extractive industries.
Ethiopia continues to have one of the world's highest levels of poverty (ranking 173 out of 186 countries as per the Human Development Index). Food insecurity is one of the greatest challenges Ethiopia faces. DFATD's programming in this country addresses the structural causes of food insecurity with a focus on helping farmers increase their agricultural production, and assisting private sector businesses involved in agriculture to become more productive. In 2012–2013, CIDA provided 6.9 million people in Ethiopia with food through the provision of a food- and cash-for-work program. This allowed those in need to meet their basic food requirements without having to trade or sell their livestock. CIDA's programs helped develop methods to increase the value of crops, link smallholder farmer groups to markets, and introduce new technologies to rice farmers, which has increased farmer's incomes by an average of 32 percent.
The Democratic Republic of Congo (DRC) has suffered from prolonged conflict particularly in the eastern region of the country. Despite sustained economic growth and vast natural resources, extreme poverty has persisted throughout the country: fifty-nine percent of the population lives on less than US$1.25 a day and the country continues to lag in terms of development (ranking 186 out of 187 countries on the human development index). The capacity of the Congolese government to provide its citizens with health, education, water, and sanitation services remains limited. Sexual and gender-based violence, particularly against women and girls, continues with relative impunity. Humanitarian needs grew in 2012 and 2013, particularly in North Kivu and Katanga provinces. Between January 2012 and March 2013, entrenched conflict in three territories of Katanga province, the country's wealthiest, led to the displacement of 300,000 people. This figure is part of the 2.6 million people displaced in DRC as of March 2013 and in need of humanitarian assistance to meet their basic daily needs. Following a regional peace, security and cooperation framework signed by DRC and neighbouring countries in February 2013, the United Nations Security Council authorized an Intervention Brigade to help neutralize armed groups.
In 2012–2013, the Government of Canada provided debt relief of $63.83 million. CIDA programmed $51.31 million in bilateral aid which included strengthening the capacity of the DRC's health system, supporting victims of sexual violence, building institutions, and humanitarian assistance. During the Francophonie Summit, held in Kinshasa in September 2012, the Prime Minister announced an $18.5M initiative to continue to support survivors of sexual violence, and prevent and fight impunity for perpetrators of such crimes. Canada also provides support to Canadian organizations working in DRC, and to regional and multilateral initiatives in the areas of peace, good governance, health, sustainable natural resource management and the protection of human rights.
Canada and Côte d'Ivoire have close and cordial bilateral relations. A substantial debt burden has constrained Côte d'Ivoire from investing in basic social infrastructure. The Government of Canada announced in August 2012 that it would be forgiving the $133.60 million debt owed by Côte d'Ivoire as part of the Heavily Indebted Poor Countries Initiative (HIPC). The amounts forgiven will allow the government to increase investments towards health and sanitation.
Canadian humanitarian assistance in 2012–2013
Canada provided $528 million in humanitarian assistance in 2012–2013 and responded to complex humanitarian crises in 37 countries, including South Sudan, Somalia, Syria, Democratic Republic of Congo, and Pakistan, and responded to 32 natural disasters. Approximately 80 percent of this support was provided in response to specific crisesFootnote 2, with the remainder provided as long-term institutional support to multilateral humanitarian organizations and to the Canadian Foodgrains Bank.
Top 15 recipients of Canadian bilateral humanitarian assistance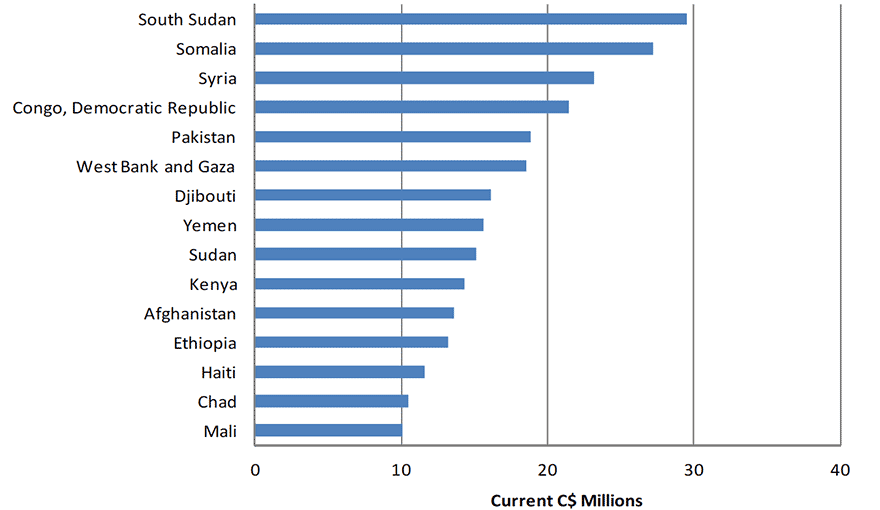 Description of graphic: Top 15 recipients of Canadian bilateral humanitarian assistance in 2012-2013

Current C$ Millions

| Country Name | Ranking | Total IHA |
| --- | --- | --- |
| South Sudan | 1 | 29,453,069.13 |
| Somalia | 2 | 27,196,946.66 |
| Syria | 3 | 23,183,120.00 |
| Congo, Democratic Republic | 4 | 21,445,240.45 |
| Pakistan | 5 | 18,869,102.87 |
| West Bank and Gaza | 6 | 18,482,813.61 |
| Djibouti | 7 | 16,099,714.98 |
| Yemen | 8 | 15,568,050.00 |
| Sudan | 9 | 15,128,492.26 |
| Kenya | 10 | 14,327,418.27 |
| Afghanistan | 11 | 13,650,000.00 |
| Ethiopia | 12 | 13,187,943.00 |
| Haiti | 13 | 11,562,651.44 |
| Chad | 14 | 10,444,189.03 |
| Mali | 15 | 10,126,409.45 |
July 2013 marked two years since the independence of the Republic of South Sudan. Despite initial optimism, the humanitarian situation in the country remained fragile during 2012–2013. Increased border violence, internal insecurity, underlying vulnerability and rising food security concerns continued to generate high humanitarian needs throughout the year. Poor harvests, soaring food and fuel prices, conflict and displacement led to rising hunger and malnutrition across the country. More than half of the country's 10 million people were food insecure. In addition, the country continued to host over 200,000 refugees. In response to those needs, Canada, through its humanitarian partners, provided emergency food assistance, water and sanitation, healthcare and emergency nutritional support, shelter, and protection to vulnerable people throughout South Sudan.
Although the catastrophic drought that devastated the Horn of Africa in 2011 had largely abated by early 2012, its effects lingered well into the following year. Several million people in Somalia, Kenya, Ethiopia, Eritrea, and Djibouti remained in crisis, facing food insecurity and malnutrition, and one million Somalis continued to live as refugees in neighbouring countries. In response, Canada continued to provide substantial humanitarian support to the region through its multilateral and global programs. Through its partners, Canada provided emergency food assistance, water and sanitation, healthcare and emergency nutritional support, shelter, and protection to those in need. Meanwhile, countries of the Sahel region suffered a food and nutrition crisis. Canada was one of the key providers of humanitarian assistance in the Sahel region, and one of the first to respond to the crisis by taking action to prevent a famine and a severe humanitarian crisis in western Africa.
Syria's turmoil began in March of 2011 and continues to this day. The estimated death toll as of February 2014 exceeds 140,000, and millions of Syrians have sought sanctuary in neighbouring countries. According to the United Nations, 9.3 million people inside Syria require humanitarian assistance, of which 6.5 million are internally displaced. The Syrian crisis is one of the most significant humanitarian catastrophes of the 21st century, and Canada's support will ensure that emergency health services, shelter, food, water, and protection are provided to people affected by the conflict both inside Syria and in neighbouring countries. Humanitarian access continues to be a significant obstacle to getting assistance to people in need. The escalating conflict in Syria remains a challenge and humanitarian needs continue to be high in Syria and neighbouring countries. Canada provided its humanitarian assistance through experienced partners and, despite the challenges, achieved significant results by providing life-saving assistance, reducing the suffering, and working to maintain the dignity of people affected by the conflict in Syria.
Canada has committed over $630 million in humanitarian, development, and security assistance since the start of the conflict in March 2011. This assistance includes $353.5 million to international humanitarian assistance efforts in Syria and neighbouring countries, $210.6 million to support development projects in the region to strengthen government services and infrastructure, and $67.6 million in security-related assistance to address the impact of the Syrian crisis.
Delivering on Canada's international assistance commitments
Fiscal year 2012–2013 marked an important year for some of Canada's leading international commitments. For example, Canada delivered its largest-ever contribution to address climate change, disbursing a total of $432 million in 2012–2013 and meeting the objective of $1.2 billion in Fast-Start Climate Change Financing. Canada also met its $220 million humanitarian and recovery assistance commitment to Haiti in the aftermath of the January 2010 earthquake.
Some key international assistance commitments include:
Maternal, Newborn, and Child Health (MNCH)
Canada remains a global leader on improving maternal, newborn and child health in developing countries. In 2010, Canada used its Presidency of the G8 to launch the Muskoka Initiative, which aims to accelerate progress on women's, children's and newborn's health in developing countries. G8 and non-G8 partners committed a total of US$7.3 billion in new and additional funding over five years (2010–2015). Canada pledged $1.1 billion in new funding over the same five-year period as well as committed to maintain existing funding levels of $1.75 billion, bringing Canada's total five-year commitment to $2.85 billion.
Canada's approach focuses on delivering integrated and comprehensive health services for mothers and children, which is achieved through programming that strengthens health systems, reduces the burden of disease, and improves nutrition.
At the end of 2012–2013, Canada had disbursed $1.86 billion, including $635 million in new funding towards meeting its pledged commitments of $2.85 billion by 2015.
MNCH Total Commitment ($2.85B)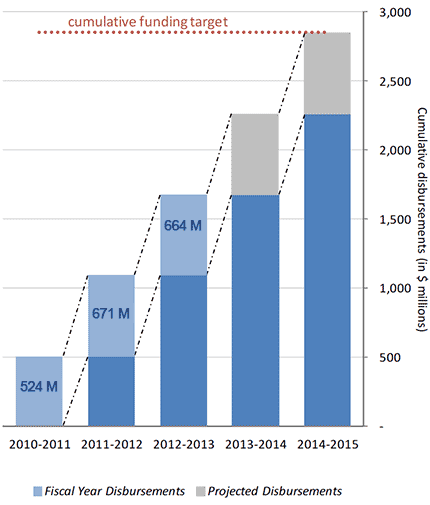 MNCH New Muskoka Funding Commitment ($1.1B)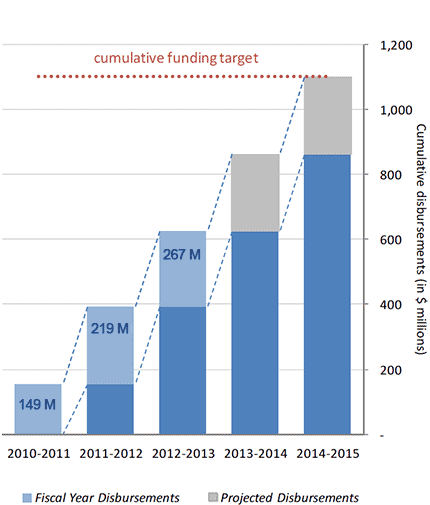 Global Fund to Fight AIDS, Tuberculosis and Malaria
Canada's 2010 Commitment to the Global Fund ($540M)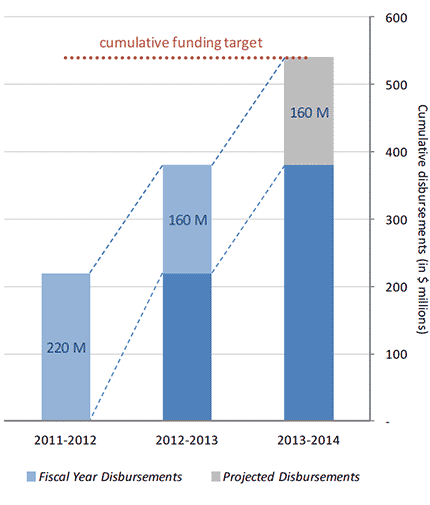 Canada's support to the Global Fund to Fight AIDS, Tuberculosis and Malaria is a critical component of the $2.85 billion Muskoka Initiative. Canada has been a significant supporter of the Global Fund since its inception in 2002 and it continues to play a leadership role in saving the lives of mothers, children, and newborns that are particularly vulnerable to diseases such as malaria, tuberculosis, and HIV/AIDS. The Global Fund invests in large-scale prevention, treatment, and care programs, and supports national health systems. Through contributions from Canada and other international donors, an estimated 8.7 million lives, including some 100,000 lives per month in recent years, have been saved so far. Canada disbursed $160 million to the Global Fund in 2012–2013 and reached its commitment of $540 million in 2013–2014. In December 2013, the Government of Canada made a new commitment to the Global Fund of $650 million over the next three years (2014–2016). This new pledge brings Canada's total commitment to more than $2.1 billion since the inception of the Global Fund in 2002.
Increasing Food Security and Improving Nutrition
Canada's 2001 Commitment to WFP and the CFGB ($350 M)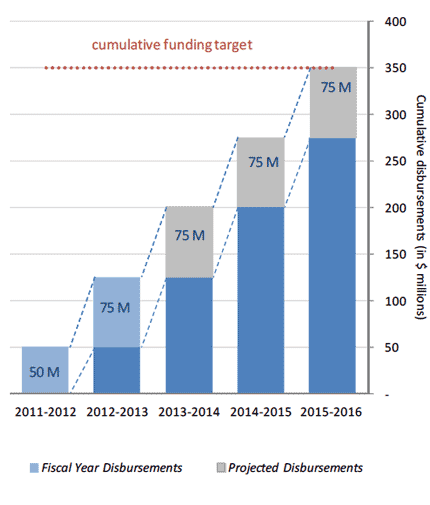 In October 2011, the Minister of International Cooperation announced Canada's continued support to the UN's World Food Programme (WFP) and the Canadian Foodgrains Bank by committing $350 million: $125 million (over five years) to support WFP's overall objectives, $100 million (over four years) for WFP's school feeding programs, and $125 million (over five years) to support CFGB's operations. In total for 2012–2013, Canada provided roughly $340 million to the World Food Programme, which includes the commitment mentioned above, in addition to other country-specific development programming and crisis-specific humanitarian programming, making Canada its third largest donor. The World Food Programme and the Canadian Foodgrains Bank are important allies in the fight against hunger.
Canada's work to improve access to sufficient quantities of nutritious food, and enhance the quality and effectiveness of its delivery, remains a strong government priority. In May of 2012, Canada pledged $219 million over three years in support of the implementation of the G8 New Alliance for Food and Nutrition Security, to obtain long-lasting benefits for those who need help in breaking out of poverty and meeting basic needs. In 2012–2013, Canada disbursed $133 million which contributed to collective efforts towards the New Alliance for Food and Nutrition Security in Ghana and Ethiopia in order to enhance agricultural productivity, improve nutritional status and unlock economic growth in Africa. In 2013–2014, Canada officially launched the cooperation framework with Senegal. This will enable the funding of investments in food security and nutrition totalling $299 million over five years.
The Government of Canada ratified the new Food Assistance Convention that came into force on January 1, 2013. The objectives of the Food Assistance Convention are to save lives, reduce hunger, improve food security, and improve the nutritional status of the most vulnerable. Canada pledged a minimum annual commitment of $250 million to meet the needs of the world's hungry.
For up-to-date information on Canada's international assistance programs, please consult the following websites: