Nuclear Powered Submarine Dismantlement Status
Canada concluded Nuclear Powered Submarine dismantling activities in North West Russia March 2010; and will conclude September 2011 in Far East Russia.
Nine implementing arrangements (IA) have been completed with two Russian shipyards since July 2004 with $206.5 million in contributions being made by Canada for nuclear powered submarine (NPS) dismantling and remediation as ofFebruary 1, 2011.
To date, 15 nuclear powered subaminres have been dismantled and 17 have been de-fuelled under Canada's NPS dismantling Program allied with a contribution of $32 million to the Northern Dimension Environmental Partnership Support Fund.
The 10th International Agreement, which also includes Republic of Korea funding, is currently being implemented with JSC FEP "Zvezda" near Vladivostok in Far East Russia. This project is 75% complete with two Victor Class nuclear powered submarines dismantled and de-fuelled to date with the recovered spent nuclear fuel sent to the Production Association Mayak in the Urals. This project included the provision of personal protection and safety equipment for "Zvezda's" workers, and assistance to the shipyard's dismantling department in being certified under ISO 14001 (environmental management). The remaining work under this agreement is to de-fuel an Akula I Class NPS, bringing the total number of submarines (35 nuclear reactors) de-fuelled under Canada's NPS dismantling Program to 18.
To negate risks associated with towing submarines Canada's NPS dismantling program employed an innovative transportation method to transport nuclear submarines over long distances using a Heavy Lift Ship (a "World first").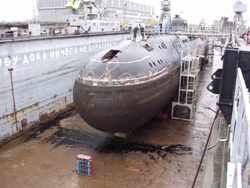 13 Victor Class submarines were dismantled and de-fuelled under Canada's program.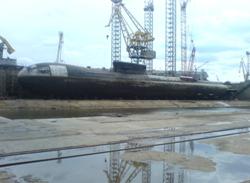 Two converted Yankee Class submarines were dismantled and de-fuelled under Canada's program.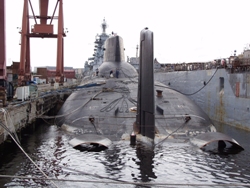 Two strategic ballistic missile submarines have been eliminated in a partnership arrangement with the USA and the Russian Federation. One such submarine was a Typhoon Class – the largest in the World.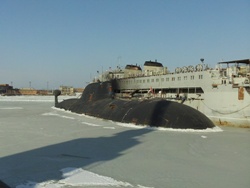 Under IA #10, Akula Class NPS #502 awaits de-fuelling. This submarine will subsequently be dismantled under Russian funding.
Date Modified: