Canada Appoints New Ambassador for Climate Change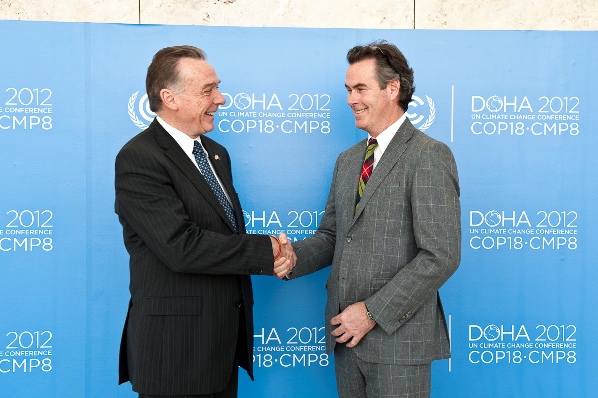 Minister Kent congratulates Canada's new Ambassador for climate change Dan McDougall in Doha.
Doha, Qatar - December 3, 2012 - Foreign Affairs Minister John Baird and the Honourable Peter Kent, Minister of the Environment, today announced the appointment of Dan McDougall as Canada's chief negotiator and ambassador for climate change.
"Mr. McDougall brings a wealth of experience to the negotiating table—experience that will help him promote and protect Canada's interests and values as we work toward 2015," said Baird.
The appointment comes as countries gather in Doha, Qatar, for the annual United Nations Framework Convention on Climate Change (UNFCCC) negotiations, to make progress toward a new global agreement.
"Canada continues to play an active role in the UNFCCC, and is working constructively with other countries to negotiate a new international climate change agreement to be implemented by 2020," Minister Kent said. "We are confident in Mr. McDougall's abilities to represent Canada's interests as we strive for a new agreement that includes all major emitters."
A biographical note on the appointee follows.
- 30 -
For more information, please contact:
Adam Sweet
Press Secretary
Office of the Minister of the Environment
819-997-1441
Media Relations
Environment Canada
819-934-8008
Environment Canada's Twitter page: http://twitter.com/environmentca
Environment Canada's Facebook page: http://www.facebook.com/environmentcan
Biographical Note
Mr. Daniel (Dan) Edward McDougall is currently the Assistant Deputy Minister, International Affairs, at Environment Canada. He is responsible for international climate change, the North American Commission for Environmental Cooperation, as well as coordination of Canada's participation in bilateral and multilateral environmental agreements.
Prior to his current position, he was the Assistant Secretary to the Cabinet, Legislation and House Planning with the Privy Council Office, managing the overall legislative program for the Government of Canada. He was also responsible for national electoral policy and legislation, and for leading the government's agenda to strengthen its national democratic institutions.
Mr. McDougall was previously the Director General of the Oceans Directorate with Fisheries and Oceans Canada, where he led the development of a national oceans management strategy, as well as delivered programs in oceans management and marine conservation.
He also has extensive experience with aboriginal policy, having worked in a variety of policy areas with Indian and Northern Affairs Canada, including with respect to the Royal Commission on Aboriginal Peoples.
Mr. McDougall started his career in government with Industry Canada, where he worked on automotive and trade policy, including the Canada-U.S. AutoPact and the automotive provisions of the North American Free Trade Agreement.
Date Modified: