Canada's Seat Sits Empty as Iran's Ahmadinejad Prattles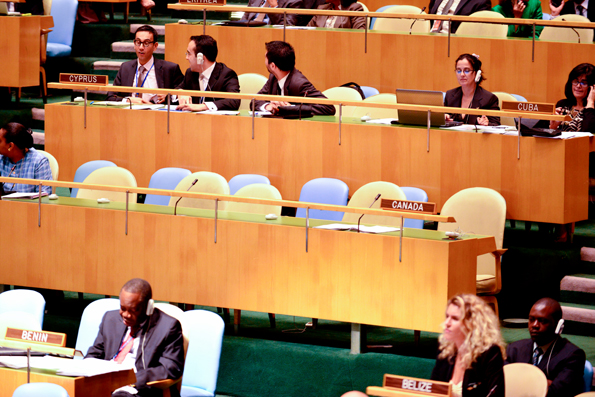 September 26, 2012 - New York City - Canada's seat sits empty as Mahmoud Ahmadinejad addresses the United Nations General Assembly, in New York City on September 26, 2012.
We will not sit silently in our chairs and listen to Iran's hateful, anti-Western, anti-Semitic views. If anything, today's address only reinforces our decision earlier this month to suspend diplomatic relations with Iran.
Iranian rhetoric on the world stage does nothing to address the real and pressing concerns of the Iranian people; Iran's actions only heighten regional and global instability.
Iran's leaders regularly demonstrate flagrant disregard for human rights, including the rights to freedom of religion and speech. Iran is increasingly isolated from the international community in this regard.
Prime Minister Stephen Harper and Foreign Affairs Minister John Baird have made it clear that Canada views Iran as the greatest threat to global peace and security.
Our government will continue to champion freedom, democracy, human rights and the rule of law on the world stage.
Date Modified: