Promoting Full and Equal Participation of Women and Girls in All Aspects of Society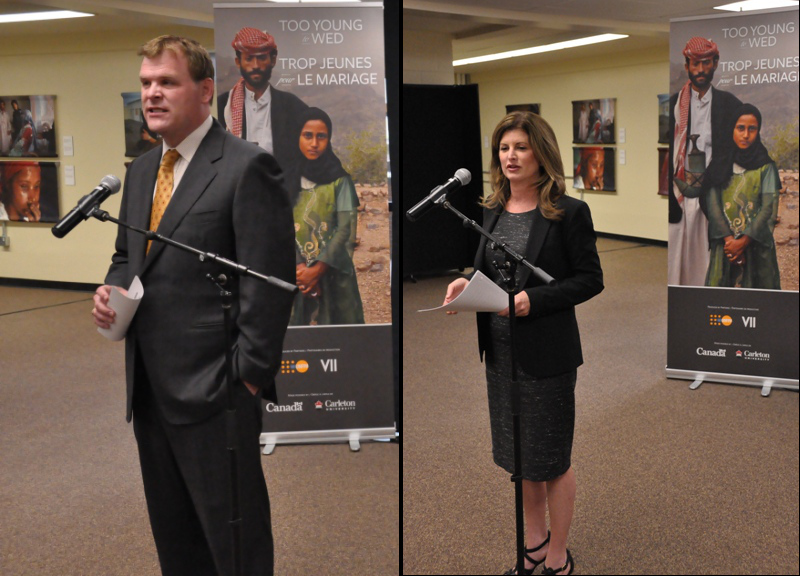 May 28, 2013 – Ottawa – Foreign Affairs Minister John Baird and the Honourable Rona Ambrose, Minister of Public Works and Government Services and Minister for Status of Women, today participated in the Canadian launch of a photo exhibit, Too Young to Wed, at Carleton University.
The exhibit brings awareness to an important element of Canadian foreign policy: actively opposing the practice of early forced marriage.
A third of all girls in the developing world are married before they are 18 and far too many have no choice in the matter. They are sold off by their families as commodities, into lives of dependence and despair. As children, they are not ready to be parents. Many die in labour or soon thereafter. Those who do survive are limited in their choices and potential. They have little or no schooling. They cannot work.
The powerful images in this exhibit shine a light on the barbaric and outdated practice of early and forced marriage.
They give names to victims—Tehani, Niruta and Debitu—just to name a few.
They remind us why our government has made combatting early forced marriage a priority in our foreign policy, why this is as much an issue of rights as it is an issue of economics in the developing world, and why we continue to seek new partners in our fight.
Carleton University will host the exhibit on campus from May 28 until June 28, 2013.
Download Minister Baird's photo
Download Minister Ambrose's photo
Date Modified: