Baird Attends North American Foreign Ministers Meeting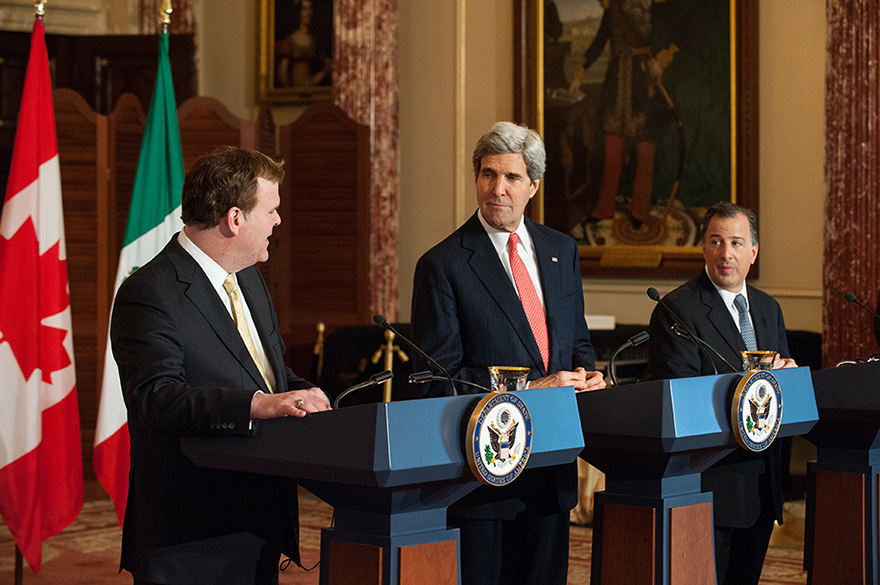 January 17, 2014 - Washington, D.C. - Foreign Affairs Minister John Baird meets with U.S. Secretary of State John Kerry and Mexico's Secretary of Foreign Affairs José Antonio Meade at the North American Foreign Ministers Meeting (NAFMM) in Washington, D.C.
The ministers discussed a very broad range of issues under the themes of North American competitiveness, energy and environment, and security to ensure the well-being and safety of the countries' citizens.
"I strongly believe that by working together, we can improve North American productivity and make our economies more innovative and internationally competitive," said Baird. "Trilateral cooperation complements our respective national and bilateral efforts to achieve these objectives.
"By working together on foreign policy issues, we can have a greater impact and better advance the values and interests that we share."
This is the first tripartite meeting of Baird and secretaries Kerry and Meade as North American foreign ministers.
This year's meeting will help lay the groundwork for the North American Leaders' Summit, which will be hosted by Mexico on February 19, 2014.
Date Modified: