Address by Minister Baird at Foreign Affairs, Trade and Development Canada Headquarters
Canadian Diplomacy for the 21st Century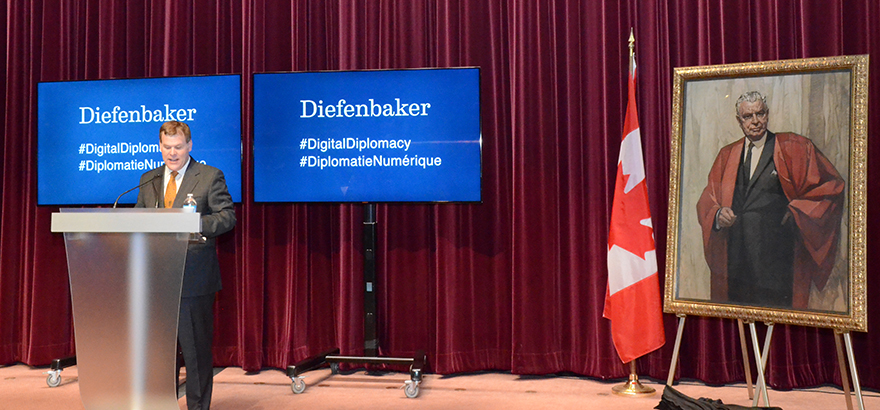 March 27, 2014 - Ottawa, Ontario
Check Against Delivery
Thank you everyone for joining us here today—both physically and virtually.
It makes a nice change to be playing at the home arena.
The international nature of our work means I'm away as often as not.
And when I'm in Ottawa, my time in my departmental office competes with my duties in Parliament and the constituency.
It's also now almost three years since I had the honour of taking on this role.
So it is a good time to reflect on what has been before, what is, and what will be.
Prime Minister John Diefenbaker was a leader whom I've long admired.
It's a real pleasure for me to be able to launch this impressive portrait of Diefenbaker, together with the final batch of official chronicles about his foreign policy while in office.
I'd like to take a few minutes to reflect on his legacy in the critical post-war, mid-20th century period.
Then come forward to our work in the present day, and what we need to be looking out for to advance our national interest in the 21st century.
As Diefenbaker himself said, "There can be no dedication to Canada's future without a knowledge of its past."
"Dief the Chief" was a man from the prairies, with a keen sense of the "little guy."
He was informed by the values of his small-town upbringing, and a belief in a traditional but independent-minded Canada.
He instinctively cared more about the views of the people than the validation of elites.
And he spoke with clarity and conviction.
You can get a sense of his tenacity, some would say stubbornness, by looking at the arc of his political career.
He lost several early elections in his search for elected office.
He then lost two party leadership contests… and also two House leadership contests.
But he persevered and became Canada's 13th prime minister, and very actively shaped its foreign policy at a very formative time in the world.
I won't attempt to do justice to every aspect of his tenure in the limited time we have this morning.
But there were two totemic issues of his time that he was firmly on the right side of—communism and apartheid.
When Soviet dictator Nikita Khrushchev denounced European colonialism at the UN, Diefenbaker was the first Western leader to hit back.
In words that resonate strongly with recent events, he said:
"What of Lithuania, Estonia, Latvia? What of the freedom-loving Ukrainians and other Eastern European peoples?"
He called on Khrushchev to "give those nations under his dominion the right of free elections, to give them the opportunity to determine the kind of government they want under genuinely free conditions."
Similar values drove the prime minister to act when South Africa's disgusting system of apartheid threatened to tear apart the Commonwealth—an institution he had high ideals for.
He ultimately forced South Africa to withdraw from the organization,
by pushing for a statement of Commonwealth principles that included racial equality.
"I abhor discrimination and always have," he said. "I made it clear that the policy of South Africa was a denial of human dignity and the principle that the worth of the individual, whatever his race and colour, must be respected."
Remember that those words may sound like an easy platitude nowadays—especially in the wake of the global tributes that were paid to Nelson Mandela earlier this year.
But Diefenbaker was calling out apartheid very early on and had to break with the consensus of some of our closest allies in doing so.
There were other achievements of his tenure, too.
He supported freer global trade, for example, signing a huge wheat export deal with China.
And he signed Canada's Bill of Rights­—which reflected the values he sought to champion.
Of course, there were also times when he didn't get things right.
His relationship with his counterparts in the United States certainly got too frosty over time.
The close North American partnership has since become more close—more important, not less.
But I think, overall—in a challenging time for Canada's economy, and for global security—history should judge Diefenbaker well.
In his first speech on becoming party leader, he described how he himself hoped to be judged:
"I know I will make mistakes but I hope it will be said of me—when I give up the highest honour that you can confer on any man—'He wasn't always right; sometimes he was on the wrong side, but never on the side of wrong'."
Well, I would say that of him. He was never on the side of wrong.
Those words are as relevant now as they were 50 years ago, and I've often quoted them in meetings.
Of course, so much has changed in the world since he left office in 1963.
1963 was a year in which the Toronto Maple Leafs won the Stanley Cup, for example…
…and as an Ottawa native, I feel compelled to point out, only four years removed from their last Stanley Cup.
Since that time, the world's population has more than doubled, from 3.2 billion to 7.2 billion people.
There have been huge shifts of power, population, economies and technology.
Canada's engagement with the world has also stepped up dramatically.
This department started out above a barber shop on Bank Street.
When Diefenbaker left office it had 2,000 employees. We, DFATD, now have almost 10,000 employees—in Canada and around the world.
In 1963, we had relations with 83 countries. Now it is 193 countries—and with 171 missions.
Overseas development aid was $120 million. Now it is $5 billion.
And, then, Canada exported just over $7-billion worth of goods. Last year, it was almost $450 billion.
Our ambitious economic diplomacy is breaking new ground, from the Global Markets Action Plan to the Comprehensive Economic and Trade Agreement.
Our generosity and commitment to helping those in need has been evident when reacting to events in the Philippines, Syria and many other places.
And also in our proactive development initiatives, such as on maternal and child health, which Prime Minister Harper has taken a strong lead on.
On top of all that, serving the needs of Canadian citizens abroad is now front and centre in our priorities.
And all this progress is in large part thanks to the dedication of people like you in the room, this building, and those who are stationed overseas in our network of missions.
Canada is as ambitious and globally minded as it has ever been.
And we have always sought to punch above our weight.
And when you put things in perspective, we also have an enviable reputation around the world.
There's an annual survey on this conducted by the Reputation Institute.
They ask some 27,000 people around the world about their perceptions of other countries.
Canada topped this survey last year, the year before that and the year before that.
People respect our values. They want to live here, work here, raise a family here.
Many foreign ministers have to spend a lot of their time defending domestic issues in their own country. Fortunately, I'm not one of them.
The kind of issues that cause controversy in our Parliament or our media are not issues that result in our heads of mission being démarched.
This is the Canadian advantage.
This is our blessing.
And this is our responsibility for leadership.
It is our responsibility to speak up for our values in the rest of the world, especially when others aren't able to.
As well as not being "on the side of wrong," we should be actively batting for the side of what's right.
Some may think it's simplistic to talk in terms of right and wrong.
The complexities of motives and circumstances may be more like a shifting kaleidoscope than black and white.
And yet, clear values stand firm in an ever-changing world.
Every ship needs a compass.
That moral compass is clearly something Diefenbaker had.
And that's what this government, our prime minister, has today.
It is about the application, and reapplication of universal principles.
Principles that are the foundations of our democracy and remain a guiding beacon for those around the world who are oppressed and persecuted.
Engaging in dialogue, building coalitions and the careful nuance of negotiations are all important tools.
But while they are virtues in themselves, they are also means to ends.
To put it another way—sometimes you should be a referee and a rule-setter, but if you want to get a certain result, you have to be a player.
When it comes to promoting Canadian values and interests, we can't afford to not be a player.
I'm proud of the number of issues that Canada has played a leadership role on.
Over the last week, our prime minister was the first G-7 leader to physically show solidarity with Ukraine.
We've been firm on the need for the Commonwealth to live up to its values.
We continue to judge the Iranian regime by its deeds, not just its words.
We have stood up for Israel, even when it didn't win us popularity contests.
We are working hard to stop child, early and forced marriage.
I was pleased to see these efforts result in the UN's first-ever resolution on the issue last November.
We have also recognized the growing trend of threats to religious freedom, with the creation of a dedicated office and appointment of an ambassador.
And linked to that, appropriately, has been the introduction of the John Diefenbaker Defender of Human Rights and Freedom Awards, with the award recognizing three brave champions of the cause so far.
Challenging and confronting those who threaten freedom, democracy, human rights and the rule of law—this is where I want to see this department and our representatives abroad distinguish themselves.
And as we think about what we want to say and do, it's just as important to think about how.
The ways in which we exert an influence on the world are rapidly changing.
If I was a young, ambitious foreign service officer in 2014, I'd be thinking about gaining an edge in communications skills.
Diplomacy is increasingly about public advocacy.
You can have the best product in the world. But if people don't know about it, if it's not marketed, then what's the point?
That means being able to condense a message into 140 characters.
That means finding creative, interactive, visual ways of promoting a message.
That means writing and speaking in a language and style that persuades people, rather than just relaying information.
Because, ultimately, behind all this technology, it's all about people and relationships.
That's how the world works.
That's why we have greatly increased the number of roles that require foreign language fluency.
And that's why I've travelled over one million kilometres since becoming foreign minister—not because I enjoy airplane food.
We've traditionally been good at working with people behind closed doors. Now we are applying those skills to the very public arena of the digital world.
Networked technologies make it easier than ever for people all over the world to share information and ideas, to assemble and organize, and to shape the course of global events.
Diplomacy is not immune to these changes.
Governments are no longer the sole dominant actors in international affairs.
As I said when I visited Silicon Valley last month, the closed world of démarches and summits still have a role.
But in the age of viral videos, "twiplomacy" and mobile apps—the old levers are no longer enough.
Now I'll admit I'm not naturally the most tech-savvy person in the world.
I can remember when I sent my first email about 20 years ago, and it was actually here in this very building, when I was a young assistant to the then secretary of state of foreign affairs.
You know what? I thought it was ridiculous.
Why would you bother sending a message to someone on the same floor?
Why don't you just get up and talk to them?
But I can see that there's a cost to not innovating and a risk to not taking risks.
The treadmill of innovation will keep spinning, whether we like it or not.
Just look at the grasping futility of Turkey's Twitter ban last week.
The speed of information and communication demands agility.
The world of diplomacy may never quite adopt the Facebook maxim of "move fast and break things."
But neither can our mantra be "move slowly and don't change things."
In this digital age, no outward-facing organization can afford to be in analogue mode.
We've made some great progress in this field.
I won't list all of the examples, but you'll have seen some of them on these slideshows.
In the last few months, our missions have made a lot of progress on social media.
All outgoing heads of mission are getting training in it.
And consular services are evolving to meet the needs of a digital generation.
In the case of Iran, we may not have an embassy there, but over 1.2 million unique users inside Iran have accessed an online platform that we've supported.
This form of direct diplomacy is something we need to build on.
Authoritarian regimes are very aware of the potential of these tools, and are using them to their own ends. So we must do the same.
As I reflect on Diefenbaker's legacy, I realize that our past makes me optimistic about our future.
What we can offer the world is more important not less.
More relevant not less.
I think that it is fair to say our country has defied the low expectations of "middle power."
We have defied them, with the ambition of leading rather than following.
Our inheritance spans the 13th to the 17th centuries, from the words of Magna Carta to the shores of Champlain's New France.
We are builders and pioneers.
We are warriors when war is thrust upon us, and we are compassionate when confronted by catastrophe.
And we are a nation of immigrants, with a rich diaspora linking us back to many parts of the world.
In this globalized, fast-changing century, Canada stands strong and free.
Let's use that strength and freedom to the best of our ability.
Thank you.
Date Modified: