Minister Fast Marks Unveiling of New Bombardier Fuselage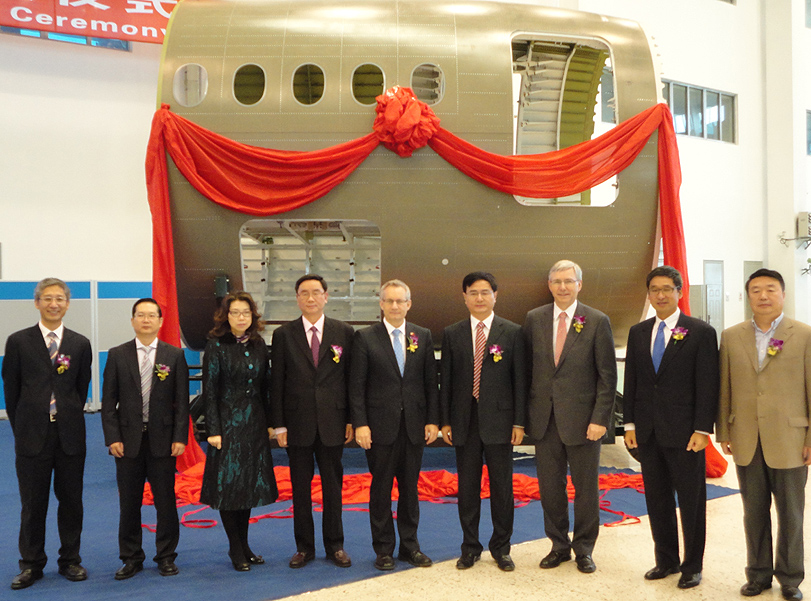 Photo (left to right): Deng Yudong, Executive Vice-General Manager, Shenyang Aircraft International Commercial Aircraft Co., Ltd.; Yang Lei, President, AVIC SAC Commercial Aircraft Company Ltd.; Wang Zhaoxia, Deputy Director General , Liaoning Province's Foreign Affairs Office; Zhang Jianwei, President, Bombardier China; Minister Fast; Yuan Li, General Manager, AVIC Shenyang Aircraft Corp., Guy Saint-Jacques, Canada's Ambassador to China; Albert Li, General Manager and Head, Bombardier Aerospace China; Dong Feng, Liaoning Province's Deputy Secretary General.
---
October 11, 2013 - Shenyang, China - The Honourable Ed Fast, Minister of International Trade, accompanied by representatives of Bombardier Inc., sees firsthand the benefits of the integrated global supply chain as he unveils the first Bombardier CSeries airline forward fuselage to be assembled in China. The fuselage will be shipped to Canada to be incorporated into Bombardier's innovative CSeries aircraft.
During visits to Shenyang Aircraft Corporation and Shenyang Aircraft Commercial Corporation, subsidiaries of Bombardier's Chinese partner Aviation Industry Corporation of China (AVIC), Minister Fast learned more about this pioneering Sino-Canadian cooperation in the civil-aviation industry. In addition to assembling Bombardier's CSeries airliner fuselages, the Chinese companies are assembling fuselages for Q400 NextGen aircraft.
Bombardier Inc. has signed several agreements with both AVIC and Shanghai-based Commercial Aircraft Corporation of China, Ltd., including memorandums of understanding for long-term strategic cooperation.
Bombardier, headquartered in Montréal, is the world's only manufacturer of both planes and trains. The company employs approximately 71,700 people around the world.
Minister Fast is on a week-long visit to Asia, during which he has attended the APEC and TPP ministerial meetings, the APEC Economic Leaders' Meeting and the APEC CEO Summit—all in Bali, Indonesia—launched the Canada-ASEAN Business Forum in Singapore and is now making his fourth official visit to China. This is the Minister's 13th visit to Asia since becoming international trade minister.
For more information, see Minister Fast Visits Asia.
For further information, media representatives may contact:
Rudy Husny
Press Secretary
Office of the Honourable Ed Fast
Minister of International Trade
613-992-7332
rudy.husny@international.gc.ca
Media Relations Office
Foreign Affairs, Trade and Development Canada
613-995-1874
media@international.gc.ca
Follow us on Twitter: @Canada_Trade
Date Modified: