Minister Fast Meets With Nova Scotia's Newly Appointed Minister of Economic and Rural Development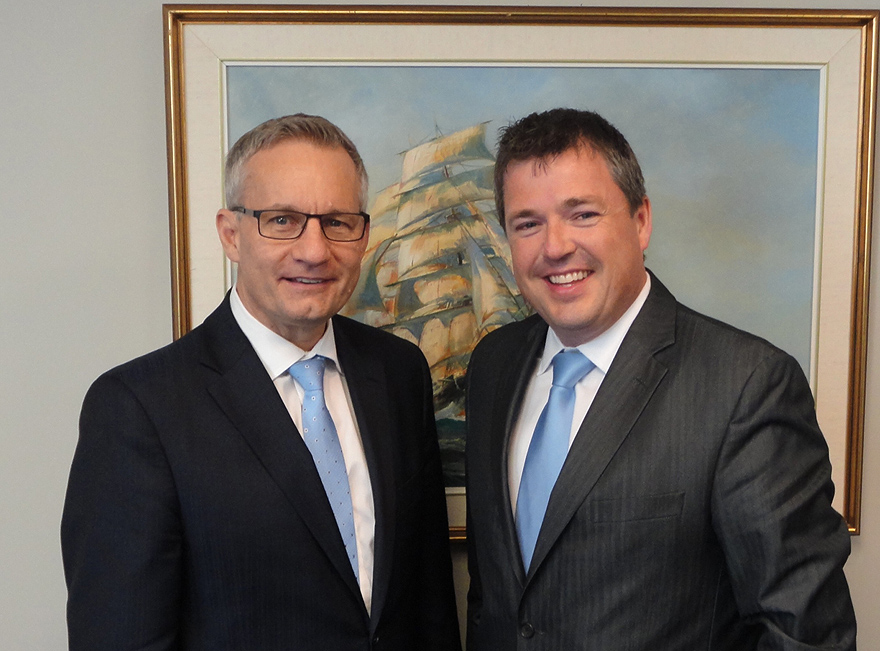 October 23, 2013 - Halifax, Nova Scotia - The Honourable Ed Fast, Minister of International Trade (left), meets with his Nova Scotia counterpart, Michel Samson, Minister of Economic and Rural Development and Tourism, Minister of Acadian Affairs and Minister responsible for Nova Scotia Business Inc. and the Innovation Corporation Act. This is the ministers' first face-to-face meeting since Minister Samson was appointed to Nova Scotia's Cabinet.
During the meeting, the ministers discussed how workers and businesses in key economic sectors throughout Nova Scotia will benefit greatly from the Canada-European Union Comprehensive Economic and Trade Agreement. An agreement-in-principle for this historic deal was announced by Prime Minister Stephen Harper and European Commission President José Manuel Barroso last week. The EU is Nova Scotia's second-largest export destination and largest trading partner. It is also the world's largest integrated economy, with more than 500 million consumers and a GDP of $17 trillion.
For more information about the vast benefits of this historic agreement, please visit actionplan.gc.ca/CETA.
For further information, media representatives may contact:
Rudy Husny
Press Secretary
Office of the Honourable Ed Fast
Minister of International Trade
613-992-7332
rudy.husny@international.gc.ca
Media Relations Office
Foreign Affairs, Trade and Development Canada
613-995-1874
media@international.gc.ca
Follow us on Twitter: @Canada_Trade
Date Modified: