Canada-Korea Free Trade Agreement to Benefit Ontario Manufacturing Sector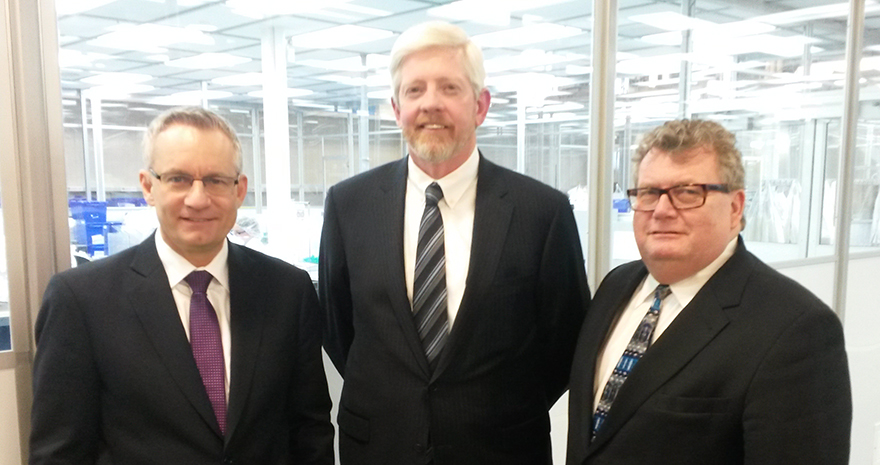 Photo (from left to right): Minister Fast; Mark Pickard, TMI VP and GM; and Ed Holder, Member of Parliament–London West
---
March 13, 2014 - London, Ontario - The Honourable Ed Fast, Minister of International Trade, tours Trudell Medical International (TMI) facilities to see, first-hand, how the company will benefit from the Canada-Korea Free Trade Agreement.
TMI designs, develops and manufactures aerosol drug-delivery devices both as finished goods for resale and for custom applications. TMI products are distributed in 106 countries, including South Korea.
The Canada-Korea Free Trade Agreement is of great interest to TMI, as there are significant tariff benefits for medical devices in the Agreement.
In fact, 88 percent of South Korea's tariff lines on medical devices will be duty-free the day the agreement comes into force; all remaining tariffs will be eliminated within 10 years. South Korean duties on these goods currently reach as high as 50 percent.
Along with reducing tariffs, Canada and South Korea will encourage their regulators to use internationally recognized standards, and promote enhanced participation in multilateral arrangements, including those related to medical devices. The goal is to reduce duplicative certification and testing requirements to help Canadian businesses be more competitive in the South Korean market.
For more details on the benefits of this agreement, visit Canada-Korea Free Trade Agreement.
For further information, media representatives may contact:
Shannon Gutoskie
Press Secretary
Office of the Honourable Ed Fast
Minister of International Trade
613-992-7332
Media Relations Office
Foreign Affairs, Trade and Development Canada
613-995-1874
media@international.gc.ca
Follow us on Twitter: @Canada_Trade
Date Modified: