Minister Fast meets with Philippines' Secretary of National Defense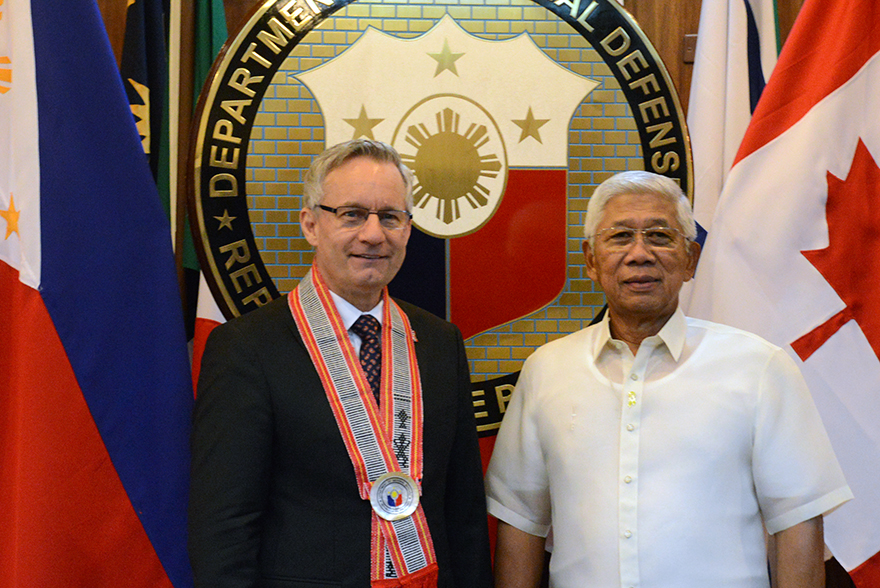 July 21, 2014 - Manila, Philippines - The Honourable Ed Fast, Minister of International Trade, (left) meets with Voltaire Gazmin, Secretary of National Defense of the Philippines, to discuss the benefits of increased defence cooperation.
During their meeting, Minister Fast and Secretary Gazmin highlighted the recent signature of a contract for US$105 million with the Philippines to supply eight specialized helicopters manufactured by Bell Helicopter Textron Canada Ltd. This contract is an outcome of the Memorandum of Understanding between the Canadian Commercial Corporation and the Department of National Defence of the Philippines.
Minister Fast also took the opportunity to express Canada's continuing interest in assisting the Philippines to advance its defence and security agenda while highlighting Canadian capabilities in the defence and security sector.
Minister Fast is leading a trade mission to the Philippines on July 21 and 22, 2014, focusing on opportunities in the agriculture, defence, information and communications technologies and sustainable technologies sectors, to promote greater trade, job creation and prosperity both at home and abroad.
For more information, please visit Minister Fast Leads Trade Mission to Australia and Philippines.
For further information, media representatives may contact:
Shannon Gutoskie
Press Secretary
Office of the Honourable Ed Fast
Minister of International Trade
613-992-7332
Media Relations Office
Foreign Affairs, Trade and Development Canada
343-203-7700
media@international.gc.ca
Follow us on Twitter: @Canada_Trade
Like us on Facebook: Canada's International Trade Plan-DFATD
Date Modified: