Minister Fast Meets with Representatives of P.E.I. Aerospace Company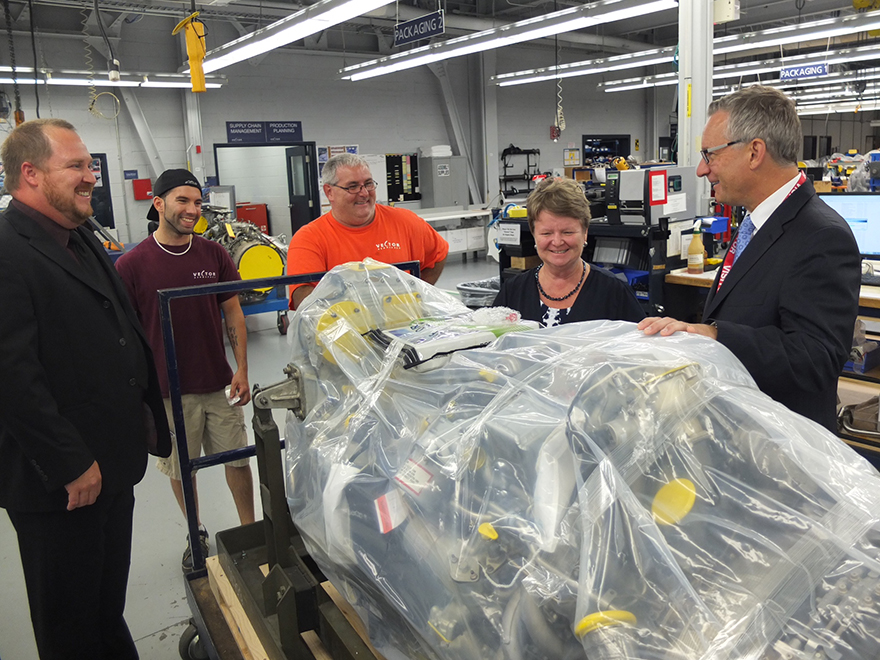 August 22, 2014 - Summerside, Prince Edward Island - The Honourable Ed Fast, Minister of International Trade, and the Honourable Gail Shea, Minister of Fisheries and Oceans, meet with representatives of Vector Aerospace Engine Services-Atlantic (ES-A), a subsidiary of Vector Aerospace Corporation (Vector). Vector is a global provider of aviation maintenance, repair and overhaul services with facilities in Canada, the United States, the United Kingdom, France, Australia, South Africa and Kenya. Vector, which provides services to commercial and military customers for gas turbine engines, components and helicopter airframes, has over 2,700 employees.
Today, Minister Fast announced that the Aerospace Industries Association of Canada will receive up to $86,609 to help Canada's aerospace sector succeed in markets abroad. The contribution is from the Government of Canada's Global Opportunities for Associations program.
A priority sector under the Global Markets Action Plan (GMAP), Canada's aerospace industry employs more than 35,000 Canadians and realized more than $12-billion worth of exports in 2013.
Minister Fast is on a visit to Prince Edward Island to meet with representatives of Canadian companies and local governments to discuss how they will benefit from opportunities created by the Canada-Korea and Canada-EU trade agreements.
For further information, media representatives may contact:
Shannon Gutoskie
Press Secretary
Office of the Honourable Ed Fast
Minister of International Trade
613-992-7332
Media Relations Office
Foreign Affairs, Trade and Development Canada
343-203-7700
media@international.gc.ca
Follow us on Twitter: @Canada_Trade
Like us on Facebook: Canada's International Trade Plan-DFATD
Date Modified: