Minister Fast Highlights Growing Canada-ASEAN Ties During Trade Mission in Burma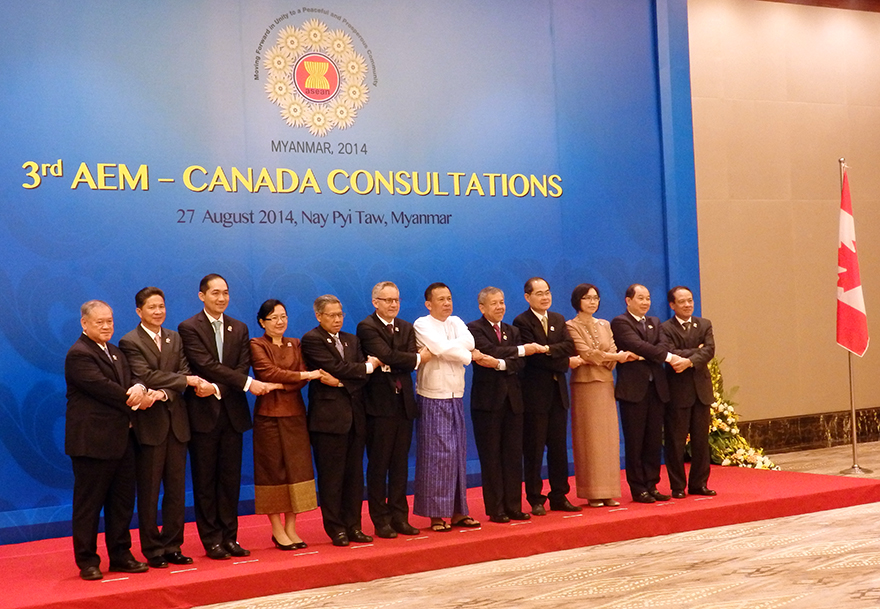 August 27, 2014 - Nay Pyi Taw, Burma - Minister of International Trade Ed Fast (sixth from left, with ASEAN economic ministers) highlights growing Canada-ASEAN economic and trade ties during the third Association of Southeast Asian Nations (ASEAN) Economic Ministers-Canada Consultations, taking place in Burma.
The consultations, which build on the 2011 ASEAN-Canada Joint Statement on Trade and Investment, are held annually to review progress and ensure that growth and pro-investment and pro-trade policies continue to deliver positive results.
Canada-ASEAN accomplishments, including the fact that bilateral (Canada-ASEAN) merchandise trade amounted to almost $17 billion in 2013, were highlighted in a joint statement issued at the end of the meeting.
Minister Fast's trade mission from August 26 to 29 has included round-table meetings with representatives of Canadian businesses in Laos and in Burma to learn first-hand the challenges they face and hear their views on the opportunities for jobs and growth in Southeast Asia and in ASEAN member countries. Burma is a priority market under Canada's Global Markets Action Plan, Canada's blueprint for creating jobs and opportunities through trade.
For further information on recent progress in Canada-ASEAN economic, trade and diplomatic relations, please refer to Backgrounder - Timeline of Canada-ASEAN Commercial Relations, 2011-2014.
For further information, media representatives may contact:
Shannon Gutoskie
Press Secretary
Office of the Honourable Ed Fast
Minister of International Trade
613-992-7332
Media Relations Office
Foreign Affairs, Trade and Development Canada
343-203-7700
media@international.gc.ca
Follow us on Twitter: @Canada_Trade
Like us on Facebook: Canada's International Trade Plan-DFATD
Date Modified: