Minister Fast Highlights Accomplishments Under Canada-U.K. Joint Innovation Statement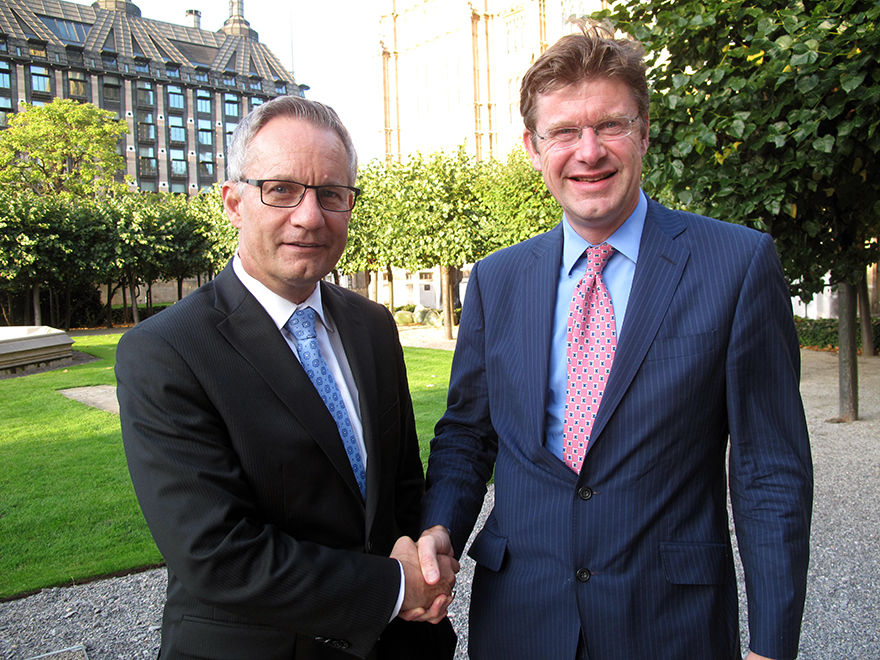 September 3, 2014 - London, United Kingdom - The Honourable Ed Fast, Minister of International Trade, and Greg Clark, the United Kingdom's Minister of State for Universities, Science and Cities, discuss Canadian and British achievements since the two countries signed a Joint Innovation Statement (JIS) in 2012. Minister Fast is in the U.K. leading a trade mission.
The objective of the JIS is to enhance bilateral collaboration between governments, knowledge-based institutions and businesses in areas of strategic priority to both countries. Priority sectors include:
health research;
sustainable technologies;
renewable energy and clean technologies; and
advanced manufacturing.
Since the signing of the JIS in 2012, more than 100 collaborative activities have taken place, in such areas as:
stem cell technology;
marine energy;
carbon capture and sequestration; and
anti-microbial resistance.
The JIS also contributed to creation of the StartUp Nations network and its first participation in the Global Entrepreneurship Congress, as well as to the establishment of a Government of Canada Canadian Technology Accelerator program in the U.K., a first for Europe.
For more information, please visit Minister Fast Leads Trade Mission to the United Kingdom.
For further information, media representatives may contact:
Shannon Gutoskie
Press Secretary
Office of the Honourable Ed Fast
Minister of International Trade
613-992-7332
Media Relations Office
Foreign Affairs, Trade and Development Canada
343-203-7700
media@international.gc.ca
Follow us on Twitter: @Canada_Trade
Like us on Facebook: Canada's International Trade Plan-DFATD
Date Modified: