Highlighting a Canadian Success Story in Brazil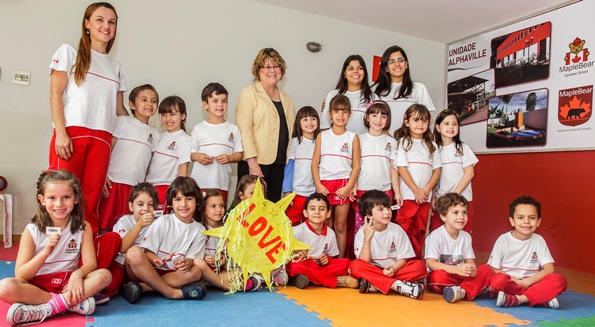 August 28, 2012 - The Honourable Diane Ablonczy, Minister of State of Foreign Affairs (Americas and Consular Affairs), today visited a Maple Bear School in Belo Horizonte as part of her Brazilian tour.
"It was a real pleasure to see first-hand a Maple Bear School in action," said Minister of State Ablonczy. "Today, Maple Bear is among the most visible Canadian symbols in Brazil, and it contributes to our efforts to promote Canada as an attractive education, tourism and investment destination."
Education is a top priority for Canada in its partnership with Brazil. The Maple Bear Global School network provides bilingual education based on Canadian methodology to hundreds of Brazilian preschoolers and elementary students in 47 schools across the country. It is expected to grow by about 10 schools per year in Brazil, making the country its most successful market. The Canadian education services at Maple Bear are helping to build important links between the Canadian and Brazilian societies.
"We had a magnificent morning, strengthening the ties that unite our school to Brazil during Minister of State Ablonczy's visit to Maple Bear Belo Horizonte," said Mariza Correia Coelho, Director of Early Childhood Education at Maple Bear Belo Horizonte and Nova Lima. "Our intermediate kindergarten class assumed great responsibility today in representing all the students of Maple Bear throughout Brazil, and we believe that they passed with flying colours."
Canada's engagement with the Americas is based on a vision of a more prosperous, secure and democratic hemisphere through the three goals of: increasing mutual prosperity; addressing insecurity and advancing freedom, democracy, human rights and the rule of law; and building lasting relationships across government institutions and business, civil society, academic and other communities in the region.
- 30 -
For further information, media representatives may contact:
Gemma Collins
Director of Communications
Office of the Minister of State of Foreign Affairs (Americas and Consular Affairs)
613-944-1291
Foreign Affairs Media Relations Office
Foreign Affairs and International Trade Canada
613-995-1874
Follow us on Twitter: @DFAIT_MAECI
Date Modified: