Minister of State Yelich Meets with Members of Special Crisis Support Team
December 11, 2013 - The Honourable Lynne Yelich, Minister of State (Foreign Affairs and Consular), yesterday met with members of Foreign Affairs, Trade and Development Canada (DFATD)'s Standing Rapid Deployment Team (SRDT), a unit of specialized officials deployed to work alongside Canada's embassies and consulates abroad to help provide critical services to Canadians in distress during emergencies.
Minister of State Yelich was honoured to thank SRDT members, particularly those who assisted the Embassy of Canada to the Philippines in providing much-needed support to Canadians affected by Typhoon Haiyan last month and its aftermath.
"When a crisis strikes, I am proud that Canada can rely on this outstanding team of individuals who dedicate their time and expertise to assisting Canadians in the most difficult of circumstances," said Minister of State Yelich. "Often working in dangerous situations, the SRDT significantly increases Canada's ability to respond to a crisis and provides important support to Canadians and their families."
When an emergency, such as a natural disaster or terrorist attack, occurs abroad in which Canadians may be affected, the SRDT is sent to the affected region to help with emergency management, consular services, logistics, security and reporting of the situation to DFATD headquarters. Created in December 2012, the SRDT has to date been deployed to Boston, Lima, Nairobi and Manila. The SRDT consists of employees in three five-member teams continuously on duty who can be sent abroad within hours.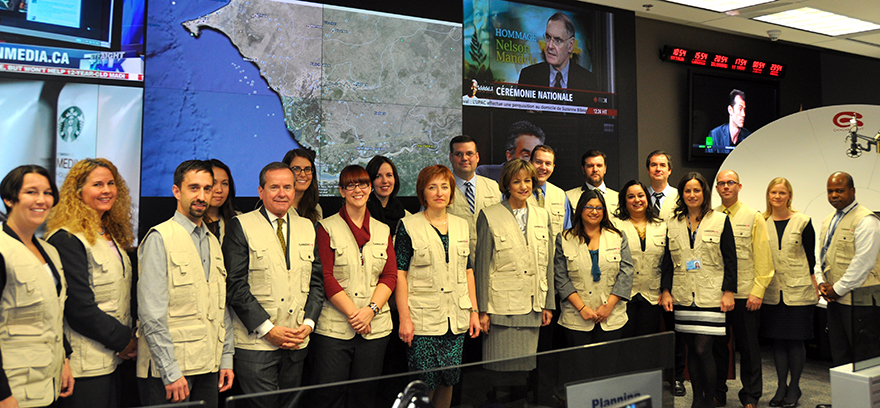 The Minister of State met with members of the SRDT during a demonstration of tools and resources in DFATD's Emergency Watch and Response Centre in Ottawa. Members of the SRDT were commended for their overall dedication to the program and for providing assistance in the Philippines.
A backgrounder follows.
- 30 -
For further information, media representatives may contact:
Media Relations Office
Foreign Affairs, Trade and Development Canada
613-995-1874
media@international.gc.ca
Follow us on Twitter: @DFATDCanada
Backgrounder - Standing Rapid Deployment Team
In 2008, following a series of emergencies involving Canadians abroad, Foreign Affairs, Trade and Development Canada identified a need to improve its emergency-management structures to ensure more organized and rapid responses to increases in demand for services to Canadians. The department created a pool of approximately 600 volunteers willing to deploy and assist on short notice. The services of the volunteers were enlisted on many occasions, including, most notably, in the aftermaths of the 2010 earthquake in Haiti, the 2011 Arab Spring and the 2011 tsunami in Japan. The volunteers' efforts helped the department identify further improvements to its emergency-response capacity and in December 2012, the Standing Rapid Deployment Team was created.
Candidates complete a rigorous recruitment and selection process. To prepare to face challenging situations during natural disasters, terrorist threats and other crises, members receive specialized and intensive training that combines classroom instruction and realistic simulation exercises. The week-long training session is designed to cover deployment strategies and focus on client services. It also provides coaching and guidance to all participants on either an individual or team basis.
Date Modified: