Minister Van Loan Highlights Government of Canada's Trade and Investment Priorities to Provincial and Territorial Partners Ahead of G-8 and G-20 Summits
Trade ministers meet to advance Canada's ambitious trade agenda
(No. 197 - June 21, 2010 - 12:55 p.m.) The Honourable Peter Van Loan, Minister of International Trade, today met with his provincial and territorial counterparts in Ottawa to advance Canada's trade and investment agenda before the G-8 and G-20 summits. Highlights of the discussion included Canada-United States relations, the state of negotiations on the Canada-European Union comprehensive economic and trade agreement, and how best to capture opportunities in the high-growth emerging markets of China and India.
"Developing and implementing Canada's trade, investment and innovation agenda is truly a team effort," said Minister Van Loan. "When the federal, provincial and territorial governments collaborate, Canadian businesses and Canadian workers benefit."
During the meeting, Minister Van Loan took the opportunity to emphasize the importance of Canada's hosting of the G-20 Summit in Toronto on June 26 and 27.
"Canada has demonstrated global economic leadership, made evident by our low debt, low deficit, low taxes and strong economic growth," said the Minister. "Our leadership in resisting protectionist measures, and in promoting trade, is one of the reasons the economy is showing signs of recovery. Canada will continue to press this agenda at this week's G-20 Summit."
The negotiations toward freer trade with the European Union constitute Canada's most ambitious trade initiative since the North American Free Trade Agreement. The ministers also reviewed other bilateral and multilateral trade initiatives as well as the status of the Doha Round of the World Trade Organization negotiations.
"Canada is a free trade leader. Our economic success depends on free trade, not protectionism," said Minister Van Loan. "Strong federal, provincial and territorial collaboration is the key to our collective success, as we continue to lead G-7 countries in achieving growth as the global economy recovers. Together we are expanding trade opportunities for Canadian exporters, attracting more investors and creating more jobs across Canada."
On Canada-U.S. relations, the ministers discussed how to take advantage of new opportunities in the United States, particularly how to achieve a deeper, long-term procurement agreement, building on the February 2010 agreement that gave Canadian firms access to projects under the American Recovery and Reinvestment Act of 2009. Minister Van Loan also updated his counterparts on the status of the Clean Energy Dialogue, which was established by Prime Minister Stephen Harper and U.S. President Barack Obama in February 2009.
The ministers discussed the state of trade and investment relations with China and India following the visits to these countries by Prime Minister Stephen Harper and several federal and provincial ministers. The ministers also discussed the Canada-India Joint Study on a Comprehensive Economic Partnership Agreement currently under development.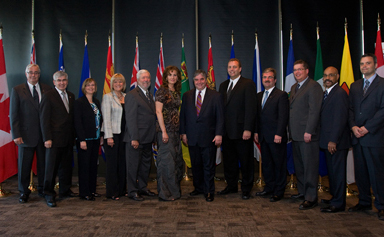 Left to right: Robert B. Carson, Assistant Deputy Minister Department of Executive and Intergovernmental Affairs, Government of Nunavut; Clément Gignac, Minister of Economic Development, Innovation and Export Trade, Government of Quebec; Edith Doucet, Deputy Minister of Intergovernmental Affairs, Government of New Brunswick; Iris Evans, Minister of International and Intergovernmental Relations, Government of Alberta; Jim Kenyon, Minister of Economic Development, Government of Yukon; Sandra Pupatello, Minister of Economic Development and Trade, Government of Ontario; Peter Van Loan, Minister of International Trade, Government of Canada; Peter Bjornson, Minister of Entrepreneurship, Training and Trade, Government of Manitoba; Shawn Skinner, Minister of Innovation, Trade and Rural Development, Government of Newfoundland and Labrador; Allan V. Campbell, Minister of Innovation and Advanced Learning, Government of Prince Edward Island; Percy Paris, Minister of Economic and Rural Development and Minister responsible for Nova Scotia Business Incorporated, Government of Nova Scotia; and Randy McAfee, Senior Trade Analyst, Executive Council, Intergovernmental Affairs, Government of Saskatchewan.
Download a high resolution version of this photo
- 30 -
The list of participants follows.
For further information, media representatives may contact:
Monika Bujalska
Press Secretary
Office of the Honourable Peter Van Loan
Minister of International Trade
613-992-9304
Trade Media Relations Office
Foreign Affairs and International Trade Canada
613-996-2000
Backgrounder - List of Participants
Peter Van Loan, Minister of International Trade, Government of Canada
Sandra Pupatello, Minister of Economic Development and Trade, Government of Ontario
Clément Gignac, Minister of Economic Development, Innovation and Export Trade, Government of Quebec
Percy Paris, Minister of Economic and Rural Development and Minister responsible for Nova Scotia Business Incorporated, Government of Nova Scotia
Edith Doucet, Deputy Minister of Intergovernmental Affairs, Government of New Brunswick
Peter Bjornson, Minister of Entrepreneurship, Training and Trade, Government of Manitoba
Allan V. Campbell, Minister of Innovation and Advanced Learning, Government of Prince Edward Island
Jim Kenyon, Minister of Economic Development, Government of Yukon
Randy McAfee, Senior Trade Analyst, Executive Council, Intergovernmental Affairs, Government of Saskatchewan
Iris Evans, Minister of International and Intergovernmental Relations, Government of Alberta
Shawn Skinner, Minister of Innovation, Trade and Rural Development, Government of Newfoundland and Labrador
Robert B. Carson, Assistant Deputy Minister, Department of Executive and Intergovernmental Affairs, Government of Nunavut
Date Modified: