This Web page has been archived on the Web
Information identified as archived is provided for reference, research or recordkeeping purposes. It is not subject to the Government of Canada Web Standards and has not been altered or updated since it was archived. Please contact us to request a format other than those available.
International Trade Minister Ed Fast Highlights Canada's Investment Advantages in Germany
Closer ties and increased investment will benefit both our economies and citizens, Minister tells investors
(No. 373 - December 12, 2011 - 4:15 p.m.) The Honourable Ed Fast, Minister of International Trade and Minister for the Asia-Pacific Gateway, today met with business leaders from German companies with investments in Canada to highlight Canada as an investment destination of choice for European investors.
"Attracting foreign investment directly benefits Canadian businesses, workers and families by creating jobs, raising incomes and strengthening Canada's competitive position," said Minister Fast. "Of all G-7 countries, Canada offers investors the lowest overall tax rate on new business investments and is on track to having one of the lowest corporate tax rates. Other reasons for European investors to look to Canada include one of the fastest rates of economic growth in the G-7, our highly skilled workforce and what the World Economic Forum has called the soundest banking system in the world."
Germany is already the 10th-largest foreign investor in Canada, with foreign direct investment totalling $10.2 billion in 2010. Many leading German businesses have already invested in Canada, including well-known companies such as BASF, Siemens AG, Daimler and Bayer AG.
"Our strong economic fundamentals and investment advantages clearly show why leading German companies are bringing prosperity-boosting investment to Canada," said Minister Fast. "I am urging other business leaders to do the same."
While in Berlin, Minister Fast also met with Norbert Steiner, Chairman of the Board of Executive Directors of K+S AG, one of the leading producers of standard and specialty fertilizers and the biggest salt supplier worldwide. K+S is a significant investor in Canada, having recently announced its intention to build a new potash mine in Canada worth $3.25 billion. This investment represents one of the single largest investments in Canada by a German company; it could bring jobs to 1,100 people during the construction phase and to around 320 people when the mine is fully operational.
"The K+S Group is pleased to invest in Canada and to be building the first new potash mine in Saskatchewan in nearly 40 years, with production targeted for 2015," said Mr. Steiner. "The Legacy Project will mean new job opportunities for Saskatchewan workers and new business opportunities for Canadian companies supplying goods and services to this major economic development. Together with Canada, we are helping to feed a growing world population."
In Duisburg, near Düsseldorf, Minister Fast toured the steel production facility of ThyssenKrupp AG, another German company with significant investments in Canada. It has links with Canada stretching back more than 140 years and currently employs over 2,300 Canadians. According to ThyssenKrupp, annual business volume with Canada is approximately $3 billion, and up to twenty percent of raw materials used in ThyssenKrupp's plants come from Canada.
"With our many investment advantages, it is no wonder that Forbes magazine recently ranked Canada as the best place in the world to do business," concluded Minister Fast. "With jobs and prosperity in Canada and Europe so closely linked to the business we do together, deepening our trade and investment ties will be a winning strategy for us both, now and in the years to come."
To find multilingual, comprehensive information on Canada's many investment and business advantages, please consult Invest in Canada.
For more information on the Minister's visit to Europe, please consult Minister Fast Visits Europe and Attends WTO Conference.

Minister Fast meets with Norbert Steiner, Chairman of K+S AG's Board of Executive Directors, in Berlin.
Download a high resolution version of this photo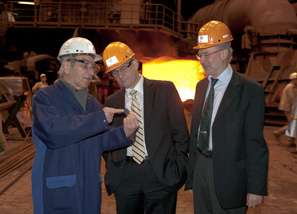 Minister Fast tours the steel production facility of ThyssenKrupp AG in Duisburg, Germany. Left to right: Thomas Dudziak, a ThyssenKrupp steel engineer, Minister Fast and Klaus Potthoff, Director of ThyssenKrupp's Materials Division.
Download a high resolution version of this photo
- 30 -
A backgrounder follows.
For further information, media representatives may contact:
Rudy Husny
Press Secretary
Office of the Honourable Ed Fast
Minister of International Trade and Minister for the Asia-Pacific Gateway
613-992-7332
Trade Media Relations Office
Foreign Affairs and International Trade Canada
613-996-2000
Follow us on Twitter: @Canada_Trade
Backgrounder - Canada's Competitive Advantages
Canada welcomes foreign investment that contributes to its economic growth, jobs, innovation, competitiveness and long-term prosperity. Between 2001 and 2010, Canada was the world's eighth-largest destination of global inbound foreign direct investment (FDI) flows. Its stock of FDI (in and out) in 2010 was equivalent to 74.6 percent of its gross domestic product (GDP), the third-highest proportion in the G-7.
Canada offers investors many competitive advantages, including:
Strong economic growth: Throughout the global economic downturn, Canada proved to be a top-performing economy that offers businesses opportunities to grow, innovate and succeed. The International Monetary Fund predicts that after Japan, Canada will have the fastest economic growth in the G-7 in 2012. Canada has also recorded the fastest employment growth in the G-7 since mid-2009, fully recovering all the jobs lost during the recession.
Fiscal strength: Canada entered the global recession with a strong record of balanced budgets and low debt. Canada has the strongest fiscal position in the G-7 and among the best fiscal prospects in the G-20. Canada is set to attain a budget surplus by 2015-16. The federal debt-to-GDP ratio stood at 33.9 percent in 2010-11, and it is projected to decline to 31.7 percent by 2015-16.
Financial stability: Canada's strength is underpinned by the world's most stable financial sector, as affirmed by the World Economic Forum. At a time when financial institutions around the world were collapsing, no Canadian bank or insurer failed and none required bailouts. Global Finance magazine has affirmed that six of the top ten safest banks in North America are Canadian.
Lower business costs and taxes: Canada offers a low-cost, low-tax environment. Canada's overall tax rate on business investment is substantially lower than all G-7 countries. In 2012, Canada is expected to have a combined federal-provincial statutory general corporate income tax rate of 26 percent, below the level of most other G-7 countries and more than 13 percentage points lower than that of the United States. Canada is the first in the G-20 to make itself a tariff-free zone for manufacturers by eliminating tariffs on manufacturing inputs, machinery and equipment.
Excellent place for research and innovation: Canada offers a winning environment for research and innovation, including world-leading R&D infrastructure, innovation incentives and scientific talent. Canada is first in the G-7 in terms of relative expenditures on research and development (R&D) in higher education. Canada offers one of the most generous R&D tax incentives in the industrialized world. Combined federal and provincial credits can save foreign investors, on average, up to 30 percent of investment in R&D in Canada.
Competitive workforce: Canada is home to a highly educated, flexible and multicultural workforce that is well suited for today's knowledge-based economy. Canada has one of the world's best educated workforces with the second highest proportion of post-secondary graduates in the Organisation for Economic Co-operation and Development (OECD). Canada ranks number one in the G-7 and number three in the world for the quality of its management schools, says the World Economic Forum.
A great place to live, study or work: Canada's high quality of life provides a great backdrop for the success of individuals, families and globally engaged companies. According to the OECD's Better Life Index, Canada has the highest quality of life in the G-7 and second-highest in the OECD. The Economist Intelligence Unit ranks Vancouver, Toronto and Calgary among the top five cities for liveability.
Gateway to the world: With the shortest sailing time between Asia and North America, Canada offers businesses assured access to a lucrative North American market of nearly 450 million consumers. Canada has major international shipping ports on both the Atlantic and Pacific coasts (Halifax, Vancouver and Prince Rupert) and along the Great Lakes/St. Lawrence Seaway (Montréal). Seventeen of Canada's twenty largest cities are located within a 90-minute drive of the Canada U.S. border.
Find out more at Invest in Canada.
Date Modified: