This Web page has been archived on the Web
Information identified as archived is provided for reference, research or recordkeeping purposes. It is not subject to the Government of Canada Web Standards and has not been altered or updated since it was archived. Please contact us to request a format other than those available.
Minister Fast Visits Canadian Automotive Company in India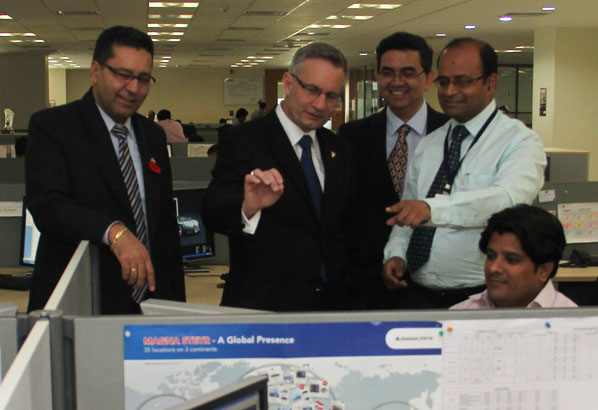 November 8, 2011 - Pune, India - On day six of his week-long trade mission to India, the Honourable Ed Fast, Minister of International Trade and Minister for the Asia-Pacific Gateway, toured operations at Magna Steyr India (Pvt) Ltd. in Pune, a Canadian company that is servicing the growing Indian automotive sector.
The Minister's goal for his visit to Magna Steyr was to raise the profile of Canada's manufacturing industry and to showcase the success of current Canadian automotive industry operations in India.
Magna Steyr is a subsidiary of Magna International Inc., Canada's largest automobile parts manufacturer. Magna Steyr has 8,500 employees worldwide and provides engineering services and complete vehicle production. In India, the company employs 253 people.
Photo: Minister Fast (centre) viewing automotive designs, accompanied by (left to right): Devinder Shory, M.P. (Calgary Northeast); Minister Fast; Nandu Rangnekar, Director of Projects and Intercompany Business, Magna Steyr; Shriram Pathak, Director of Engineering at Magna Seating India; and (seated) a Magna Steyr engineer.
Minister Fast is in India from November 3 to 9, 2011, to build relations and advance trade and investment ties.
Please consult Trade Mission to India and Minister Fast's photo gallery.
For further information, media representatives may contact:
Rudy Husny
Press Secretary
Office of the Honourable Ed Fast
Minister of International Trade and Minister for the Asia-Pacific Gateway
613-992-7332
Trade Media Relations Office
Foreign Affairs and International Trade Canada
613-996-2000
Follow us on Twitter: @Canada_Trade
Date Modified: