This Web page has been archived on the Web
Information identified as archived is provided for reference, research or recordkeeping purposes. It is not subject to the Government of Canada Web Standards and has not been altered or updated since it was archived. Please contact us to request a format other than those available.
Minister Fast and U.S. Trade Representative Ron Kirk Sign Two-Year Extension to Canada-United States Softwood Lumber Agreement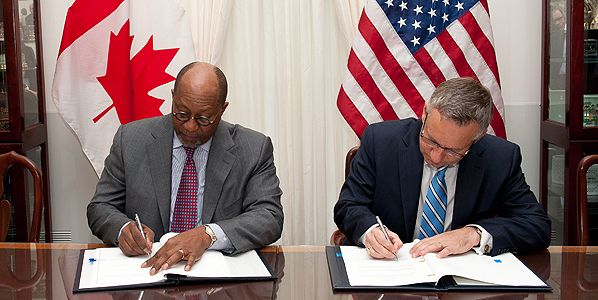 January 23, 2012 - Washington, D.C. - The Honourable Ed Fast, Minister of International Trade and Minister for the Asia-Pacific Gateway, and Ron Kirk, United States Trade Representative, today signed a two-year extension to the Canada-United States Softwood Lumber Agreement, which will benefit lumber workers and their families by bringing much-needed stability and predictability to the lumber industry.
Please consult the news release, speech and download this photo.
For further information, media representatives may contact:
Adam Taylor
Director of Communications
Office of the Honourable Ed Fast
Minister of International Trade and Minister for the Asia-Pacific Gateway
613-992-7332
adam.taylor@international.gc.ca
Trade Media Relations Office
Foreign Affairs and International Trade Canada
613-996-2000
Follow us on Twitter: @Canada_Trade
Date Modified: