This Web page has been archived on the Web
Information identified as archived is provided for reference, research or recordkeeping purposes. It is not subject to the Government of Canada Web Standards and has not been altered or updated since it was archived. Please contact us to request a format other than those available.
This page contains information about Canada's Global Commerce Strategy (2007-2013). To learn about Canada's new trade plan, visit Global Markets Action Plan.
Japan
PDF (166 KB)Footnote * | Market Reports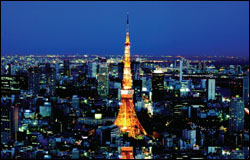 Tokyo, Japan
As one of the largest economies in the world, Japan is a large, lucrative and trend-setting import market. The country is a significant energy importer and the world's largest net importer of food. Home to 71 Fortune 500 corporations, Japan has manufacturing, exporting and trading companies that are at the heart of supply and value chains that reach across Asia and around the world. Japan is also considered one of the world's most innovative nations on the strength of its massive investment in scientific research and tremendous success in the commercialization of new discoveries. Long recognized as a global leader in design, applied technology and advanced manufacturing, it is a cutting-edge player in energy conservation and environmental technology, digital electronics and nanotechnology, hybrid automobiles, specialty steel, machinery and robotics. Japan, however, is still a complex and protected market that demands great patience and persistence. A number of market barriers remain in place, most notably in agri-food and forestry products.
Commercial Relations
Canada's merchandise trade with Japan was close to $20.7 billion in 2009, comprising close to $8.3 billion in exports and nearly $12.4 billion in imports.
More than 3,000 Canadian firms export to Japan each year.
Over 100 Canadian firms have established a direct presence in Japan. In 2009, Canadian direct investment in Japan stood at $3.6 billion.
Japan is Canada's eighth largest foreign investor. With foreign direct investment holdings of $13.1 billion in 2009, some 550 Japanese affiliates were active in Canada, creating tens of thousands of Canadian jobs in the automotive, aerospace, energy and mining sectors.
Market Opportunities
The Government of Canada has identified Japan as a Global Commerce Strategy (GCS) priority market—based on extensive consultation with government, academic and Canadian business and industry representatives—and has developed a comprehensive Market Plan that identifies the following sectors as offering clear market opportunities well suited to Canadian capabilities and interests in the region:
Advanced Materials: The market offers opportunities for advanced marterials, particularly in terms of their use by the energy and environment sectors, such as photovoltaic cells and batteries, and in cross-cutting enabling technologies in manufacturing, bio-industries/health and information, and communications technologies.
Agriculture, Food and Beverages: Japan is Canada's second largest export market for agri-food, with significant exports of canola seeds, meat of swine, cereals, and soybeans. Opportunities are also present in the confectionary, processed food and beverage, and health ingredients/functional foods/nutraceuticals sub-sectors.
Information and Communication Technology (ICT): The market offers opportunities in three sub-sectors: wireless (broadband, 3G/4G communication networks, mobile devices and applications); digital media (gaming, digital contents); and software (such as productivity enhancing business and IT security software).
Aerospace and Defence: As one of the top 3 international defense markets for Canadians, Japan offers strong potential as a strategic partner in aeronautics/space and other defence sub-sectors. A continued shift in Japan from military to civilian aerospace commercial activity together with global developments associated with Japan's aircraft programs also present opportunities in the aviation and MRO (maintenance, repair, overhaul) sub-sectors.
Environmental Industries: Highly advanced in this area, Japan offers long-term value chain partnership possibilities in such areas as renewable and alternative energy (including nuclear power and clean, energy-efficient building products). Opportunities also exist for smart grid technology, hydrogen fuel cell technology, and lithium ion battery manufacturing in the automotive sector.
Canada-Japan Commercial Relations, 2005-2009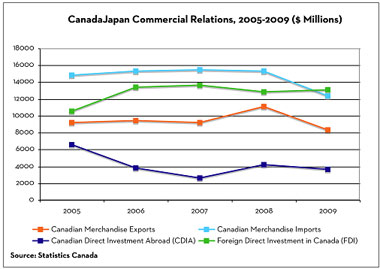 Text Alternative: Canada-Japan Commercial Relations

Canada-Japan Commercial Relations, 2005-2009

| | | | | |
| --- | --- | --- | --- | --- |
| | Canadian Merchandise Exports | Canadian Merchandise Imports | Canadian Direct Investment Abroad (CDIA) | Foreign Direct Investment in Canada (FDI) |
| 2009 | $8,314,600,000 | $12,350,900,000 | $3,642,000,000 | $13,122,000,000 |
| 2008 | $11,091,500,000 | $15,287,600,000 | $4,235,000,000 | $12,859,000,000 |
| 2007 | $9,222,700,000 | $15,458,100,000 | $2,625,000,000 | $13,625,000,000 |
| 2006 | $9,420,400,000 | $15,326,800,000 | $3,780,000,000 | $13,439,000,000 |
| 2005 | $9,169,300,000 | $14,801,100,000 | $6,559,000,000 | $10,523,000,000 |
Government Leadership and Support
The Government of Canada has agreed to further bilateral dialogue with Japan on regulatory cooperation, trade policy, the business environment (including investment) and domestic agricultural reform policy. Canada is also pursuing a new round of bilateral air services negotiations. With representatives in Tokyo, Nagoya, Kitakyushu and Sapporo, the Canadian Trade Commissioner Service is on the ground where it counts most in Japan to help Canadian companies tap into the rich market, investment and innovation opportunities Japan offers.
Market Access
Canada has a number of bilateral trade and investment policy instruments in place that are helping to facilitate and support Canadian commercial engagement in the country:
1986
Science & Technology Cooperation Agreement
2005
Japan-Canada Economic Framework
2007
Unless otherwise stated, all data is for 2009 and expressed in Canadian dollars. All data based on latest available national statistics drawn from a variety of sources, including Statistics Canada, Export Development Canada, Bank of Canada, IMF WEO and UNCTAD.
For further information, visit the Foreign Affairs and International Trade Canada website or contact the Trade Commissioner Service at 1-888-306-9991.
Footnotes
Footnote *

If you require a plug-in or a third-party software to view a file on this page, please visit the alternative formats section of our help page.
Fast Facts
Capital: Tokyo
Total Area: 377,887 km²
Population: 127.6 million
Language(s): Japanese
Type of Government: Constitutional monarchy
GDP: $5.8 trillion
Per capita GDP: $45,355
Main Export Destinations: China, United States, South Korea, Taiwan and Hong Kong
Main Import Sources: China, United States, Australia, Saudi Arabia, and the United Arab Emirates
Main Exports: Electric and electronic equipment, Machinery, Motor vehicles, Scientific and precision instruments, Iron and steel products
Main Imports: Mineral fuels and oils, Electrical and electronic equipment, Machinery, Mineral ores, Scientific and precision instruments
Main Canadian Exports (millions): Mineral fuels and oils ($1.8 billion), Oil seeds ($1.3 billion), Meat ($943.4), Wood products ($783.8), Mineral ores ($557.2)
Main Canadian Imports (millions): Motor vehicles ($5.2 billion), Machinery ($2.4 billion), Electrical and electronic equipment ($1.7 billion), Scientific and precision instruments ($570), Rubber ($425.4)
Currency: C$1=81.97 Japanese yen (JPY)
The Canada Trade Commissioner Service
Date Modified: