This Web page has been archived on the Web
Information identified as archived is provided for reference, research or recordkeeping purposes. It is not subject to the Government of Canada Web Standards and has not been altered or updated since it was archived. Please contact us to request a format other than those available.
This page contains information about Canada's Global Commerce Strategy (2007-2013). To learn about Canada's new trade plan, visit Global Markets Action Plan.
Gulf Cooperation Council (GCC)
PDF (155 KB)Footnote * | Market Reports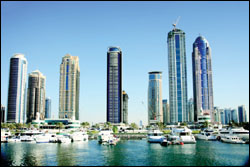 Dubai, United Arab Emirates
The six-member Gulf Cooperation Council (GCC)—Saudi Arabia, United Arab Emirates (UAE), Kuwait, Qatar, Bahrain and Oman—represents one of the wealthiest country groupings in the world. Blessed with extensive oil and gas reserves, development and investment in the sector is substantial. The GCC countries are seeking to diversify their economic base and reinvest a substantial amount of their surplus capital in massive infrastructure projects, including hospitals, medical centres and educational institutions. Despite the current global economic slowdown and lower oil revenues, GCC governments are determined to draw down their accumulated reserves to maintain the level of these investments in order to sustain their economies. Rising levels of disposable income, government subsidization of basic necessities, and more flexible consumer and business lending practices are creating a new generation of affluent consumers influenced considerably by Western lifestyles and tastes. The GCC is also a major source of foreign investment capital: by 2020, GCC countries are expected to have over US$3.5 trillion in foreign direct investment holdings. Furthermore, the region is being positioned as a leading trading hub serving the Middle East, Africa and Southeast Asia. Canadian businesses are well suited to engage in the substantial economic activity under way in the GCC, particularly in the infrastructure, oil and gas, agriculture and health care sectors. Canadian companies that establish commercial credibility in the region will also be in a preferential position to attract the region's substantial investment resources.
Commercial Relations, 2009
Canada's two-way merchandise trade with GCC countries exceeded $4.8 billion.
Canadian merchandise exports to the region reached almost $3.0 billion, while imports reached $1.8 billion.
During the past five years, exports to the GCC countries from Canada have more than doubled while imports from the region which had more than doubled during the five years leading up to 2008, declined by 28.4% in 2009.
Market Opportunities
The Government of Canada has identified the GCC as a GCS priority market—based on extensive consultation with government, academic and Canadian business and industry representatives—and has developed a comprehensive Market Plan that identifies the following sectors as offering clear market opportunities well suited to Canadian capabilities and interests in the region:
Service Industries and Capital Projects: Rapid population growth, substantial revenues from oil and gas, large allocations by government to public projects, and major real estate developments are contributing to an infrastructure and construction expansion, as well as increasing demand for education and training. Canadian business has played a key role in infrastructure developments worldwide, and a number of leading firms have already established a credible presence in the GCC region. Canadian expertise in education is also well respected.
Oil and Gas Equipment and Services: Canadian firms have world-renowned expertise in the oil and gas sector and are well placed to supply the industry's needs as they upgrade their facilities and processing in the GCC.
Health Industries: GCC countries are building and upgrading many health care facilities, the development and management of which match well with Canadian capabilities. The GCC countries also import virtually all of their medical equipment and supplies and are highly dependent on foreign-trained physicians. GCC demand for Canadian expertise in the sector is in part due to the significant influence of GCC decision makers who have returned from studies in Canada. Sub-sectors include health care facilities management, hospitals, pharmaceuticals, and institutional devices and supplies.
Agriculture, Food and Beverages: The GCC has limited local agricultural production, a growing demand for imported foodstuffs, and a strong re-export market. Canadian agri-food products are looked upon as high-quality, with a distinctive North American image, and represent a substantial percentage (30 percent) of Canada's overall merchandise exports to the region.
Canada-Gulf Cooperation Council (GCC) Commercial Relations, 2005-2009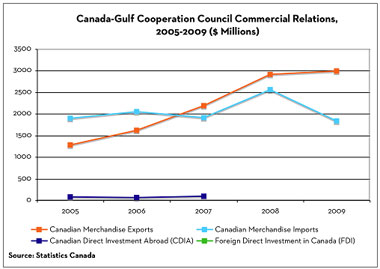 Text Alternative: Canada-Gulf Cooperation Council (GCC) Commercial Relations

Canada-Gulf Cooperation Council (GCC) Commercial Relations, 2005-2009

| | | | | |
| --- | --- | --- | --- | --- |
| | Canadian Merchandise Exports | Canadian Merchandise Imports | Canadian Direct Investment Abroad (CDIA) | Foreign Direct Investment in Canada (FDI) |
| 2009 | $2,991,000,000 | $1,831,000,000 | n/a | n/a |
| 2008 | $2,921,000,000 | $2,556,000,000 | n/a | n/a |
| 2007 | $2,182,000,000 | $1,915,000,000 | $99,000,000 | n/a |
| 2006 | $1,613,000,000 | $2,044,000,000 | $65,000,000 | n/a |
| 2005 | $1,282,000,000 | $1,895,000,000 | $76,000,000 | n/a |
Government Leadership and Support
The Government of Canada will continue to monitor, assess and influence GCC bilateral trade and investment to advance Canadian interests. Officials will be reviewing trade policy and access issues, including the feasibility of additional Foreign Investment Promotion and Protection Agreement (FIPA) negotiations, a potential Free Trade Agreement (FTA) and an evaluation of current bilateral air treaties. Canada's Trade Commissioner Service will continue to provide information and encourage export-ready Canadian firms to pursue opportunities in the GCC and will continue to communicate business intelligence on GCC partnership and investment opportunities, as well as promote Canadian investment opportunities to GCC investors.
Market Access
Canada has a number of bilateral trade and investment policy instruments in place that are helping to facilitate and support Canadian commercial engagement in the region:
1991
Canada-Saudi Arabia Air Transport Agreement
1999
Canada-UAE Air Transport Agreement
2007
Canada-Kuwait Air Transport Agreement
Canada entered into discussions about a FIPA with Kuwait and is exploring possible FIPAs with other GCC countries.
2008
Conclusion of FIPA negotiations with Kuwait
2009
FIPA concluded with Bahrain
Further progress towards signing of FIPA with Kuwait
Signed Memorandum of Understanding on Trade Cooperation with Kuwait.
Unless otherwise stated, all data is for 2009 and expressed in Canadian dollars. All data based on latest available national statistics drawn from a variety of sources, including Statistics Canada, Export Development Canada, Bank of Canada, IMF WEO and UNCTAD.
For further information, visit the Foreign Affairs and International Trade Canada website or contact the Trade Commissioner Service at 1-888-306-9991.
Footnotes
Footnote *

If you require a plug-in or a third-party software to view a file on this page, please visit the alternative formats section of our help page.
Fast Facts
Population (est.): 37.8 million
GDP (est.): $1.1 trillion
Main Canadian Exports (millions): Machinery ($636), Cereals ($512.6), Aerospace products ($284), Oil seeds ($149.1), Motor vehicles ($140.3)
Main Canadian Imports (millions): Mineral fuels and oils ($1.7 billion), Precious stones and metals ($62.7), Fertilizers ($12.3), Mineral ores ($6.4), Machinery ($6.0)
The Canada Trade Commissioner Service
Villa 24, Section 4-24, Al-Mutawakkal Street, Da'aiyah
Kuwait City, State of Kuwait
Tel.: (011-965) 256 3025
Fax: (011-965) 256-4167
kwait-td@international.gc.ca
Diplomatic Quarter
Riyadh, Saudi Arabia
Tel.: (011-966-1) 488-2288
Fax: (011-966-1) 488-0137
ryadh-td@international.gc.ca


United Arab Emirates

Abu Dhabi Trade Towers
(Abu Dhabi Mall) West Tower
9th & 10th Floors, Abu Dhabi, UAE
Tel.: (011-971-2) 694-0332
Fax: (011-971-2) 694-0398
abdbi-td@international.gc.ca
Bank St. Bldg, 7th Floor
Khalid bin Waleed St.
Dubai, UAE
P.O. Box 52472
Tel.: (011-971-4) 314-5555
Fax: (011-971-4) 314-5556
dubai-td@international.gc.ca
Date Modified: