The 2022 edition of International Development Week (#IDW2022) will be celebrated by Global Affairs Canada (GAC), GAC's development partner organizations in Canada and Canadians. It will be celebrated with an array of events and activities from all over the country.
Celebrate #IDW2022 by participating in activities and events organized across the country.
Contribute to the success of #IDW2022 by hosting your very own event or activity. Check out the different types of activities you could organize.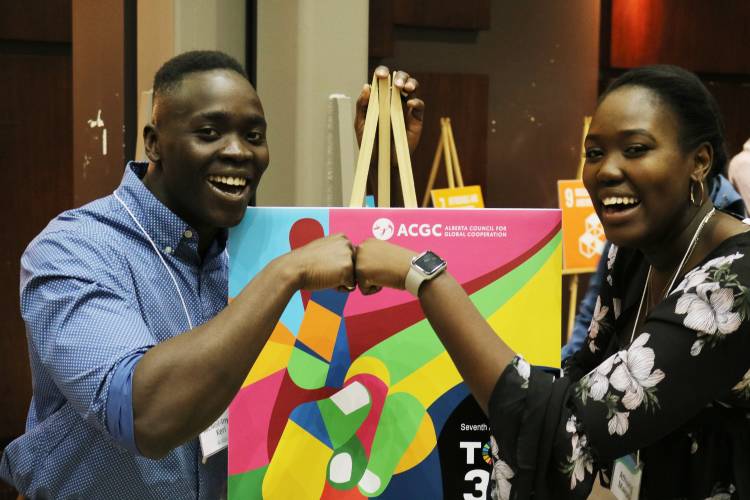 Show your support for international assistance by using the official #IDW2022 visual content, including posters and social media banners.
Let's Continue to #GoForTheGoals
#IDW2022 aims to inform, inspire and involve Canadians in Canada's international development efforts. The unifying message of "#GofortheGoals" represents a call to action for Canadians to support the achievement of the UN's sustainable development goals (SDGs).
The UN's 2030 Agenda for Sustainable Development is a 15-year global framework for action centred on an ambitious set of 17 SDGs, which envision a secure world, free of poverty and hunger, with full and productive employment, access to quality education and universal health coverage; they also envision a world in which gender equality has been achieved, women and girls are empowered and environmental degradation has ended.
The 2030 Agenda is universal in nature, meaning that developing and developed countries alike will implement the agenda. Furthermore, the agenda includes the overarching principle of ensuring that no one is left behind in the achievement of the SDGs.
Canada embraces the universality of the 2030 Agenda and is committed to supporting the implementation of the SDGs in Canada and internationally. Working with its partners, Canada is striving to end poverty and inequality, build more prosperous and peaceful societies and protect the planet.
Building on past success, #IDW2022 will continue to #GoForTheGoals and include 5 sub-themes supporting this overarching message: gender equality, education, health, economic resilience and climate action. These themes reflect elements of Canada's international development priorities and the UN's SDGs.
While these goals are ambitious, we believe that we can achieve them if we work toward them together.
This #IDW2022, we invite you to join us and #GoForTheGoals.
Social media
Interested in learning more about #IDW2022 and #GoForTheGoals? Follow our development channels on Facebook, Twitter and Instagram.
Facebook: @CanadaDevelopment
Twitter: @CanadaDev
Instagram: @CanadaDev
#GoForTheGoals Social Media Contest
What action will you take to support the United Nations Sustainable Development Goals? Will you bike or walk instead of driving? Reduce plastic waste? Support girls' education through an NGO?
Tell us on social media for a chance to meet the Minister of International Development and have a tree planted in your name! We will randomly draw 13 winners, 1 from each province and territory in Canada! The contest runs until February 12, 2022. Learn more about the contest.
Media relations
Would you like to publish an article or a story about a Canadian who has demonstrated extraordinary dedication to the cause of international assistance? Write to GAC's Media Relations Team at media@international.gc.ca.
Report a problem on this page
Date Modified: