Let's Continue to #GoForTheGoals 
International Development Week: February 5 to 11, 2023
International Development Week (IDW) 2023 aims to inform, inspire and involve Canadians in Canada's international development efforts. The unifying message Go for the Goals represents a call for Canadians to act to support the achievement of the United Nations' Sustainable Development Goals (SDGs).
The 17 SDGs are an ambitious set of goals advanced through a global framework for action known as the 2030 Agenda. The SDGs envision a secure and peaceful world free of poverty, inequality and hunger, with full and productive employment, access to quality education and universal health coverage, gender equality and the empowerment of all women and girls and an end to environmental degradation.
The 2030 Agenda is universal in nature, meaning that it applies to developing and developed countries alike. Furthermore, the 2030 Agenda is people-centred and grounded in human rights to ensure that no one is left behind. The Government of Canada embraces the universality of the 2030 Agenda and is committed to the implementation of the SDGs in Canada and internationally through a whole-of-society approach. Working with partners and stakeholders, Canada is striving to end poverty and inequality, build more prosperous and peaceful societies and protect the planet.
Building on past success, #IDW2023 will continue to #GoForTheGoals, a theme that includes 5 sub-themes: Gender Equality, Education, Health, Food Security and Climate Action. These reflect both Canada's international development priorities and the SDGs.
While the SDGs are ambitious, we believe that we can achieve them if we work toward them together.
This International Development Week, we invite you to join us in celebrating our contributions to international development and going for the goals!
Celebrate #IDW2023 by participating in activities and events organized across the country.
Contribute to the success of IDW by hosting your very own event or activity. Check out the different types of activities you could organize.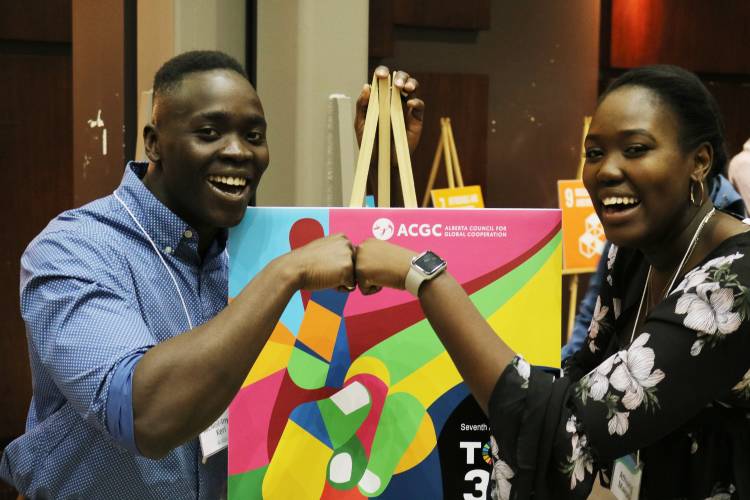 Show your support for international assistance by using the official #IDW2023 visuals, including posters and social media banners.
Social media
Interested in knowing more about #IDW2023 and #GoForTheGoals? Follow our channels on Facebook, Twitter, and Instagram   
Facebook: @CanadaDevelopment
Twitter:@CanadaDev
Instagram: @Canadadev
#GoForTheGoals Social Media Contest
This International Development Week, what action will you take to support the United Nations Sustainable Development Goals? Will you bike or walk instead of driving? Reduce plastic waste? Support girls' education through an NGO?
Tell us on social media for a chance to meet the Minister of International Development and have a tree planted in your name! We will randomly draw 2 winners, 1 from English entries and 1 from French entries. The contest runs until February 17, 2023, at 12:00 pm (ET). Learn more about the contest.
Organize an IDW activity
Are you an educator? 
Spark a discussion in the classroom on an international assistance topic (e.g., the 2030 Agenda for Sustainable Development, access to quality education, gender equality, climate change, etc.).
Show a film that addresses a global issue.
Organize an essay contest on global issues.
Highlight books and novels available in the school library that touch on global issues.  
Coordinate a virtual international assistance fair and invite international assistance organizations or international assistance experts to participate.
Are you part of a civil society or a community organization?
Invite a guest speaker working in international assistance to give a video presentation to your organization.
Share a list of thought-provoking books, novels and films on global issues.  
Profile the stories or testimonials of coworkers who have international assistance experiences.
Highlight the stories of partners in the field.  
Use social media to communicate the importance of Canada's role in international assistance to a political representative.  
For more information on how to organize a public engagement activity, please visit the Virtual Engagement Resource Centre For All (VERCA) 
Are you a student?
Start an IDW Club at your school to coordinate IDW celebrations.
Invite an international assistance expert to speak to your class online.
Host a virtual film screening on a global issue.
Coordinate a virtual international assistance fair and invite international assistance organizations to participate.
Tell other students about IDW by writing an article or a letter to the editor for your student newspaper.
Donate your time to a cause or an organization that supports international assistance.
Are you a journalist or a member of the media?
Write an article or prepare a news story on a Canadian who has demonstrated outstanding dedication to the cause of international assistance.
Highlight a Canadian innovation that contributed to the resolution of an international issue (e.g., insulin, pacemakers, blue helmets, etc.).
Cover an IDW event happening in your region.
Connect with Global Affairs Canada's media relations team (media@international.gc.ca) to help promote international assistance in the country.
Media relations
Do you want to publish an article or a story about a Canadian who has demonstrated extraordinary dedication to the cause of international assistance? Write to us at media@international.gc.ca .  
Contact us
For any questions, contact the International Development Week team   
Email: idw-sdi@international.gc.ca (English)
Email: sdi-idw@international.gc.ca (French)
Report a problem on this page
Date Modified: